Attention!
The product has been discontinued. Check other products in category.
Description
Audio player module equipped with a system VS1000D. It allows to playback OGG Vorbis and WAV files. It has a card slot for memory to store audio, and a built-in microcontroller ATmega 328P allows you to add custom sound effects of your project. The module also has connectors Jack, GPIO pins and the Power button. Supply voltage is from 3.3 V to 6 V (adjustable to 3.3 V).
SD card can run max. 32 files. For audio playback from SD-card connect the speaker to the connector Jack 3.5 mm, download the Arduino software using the library Dad Soundie. Built-in connector is for external speakers. Do not connect headphones.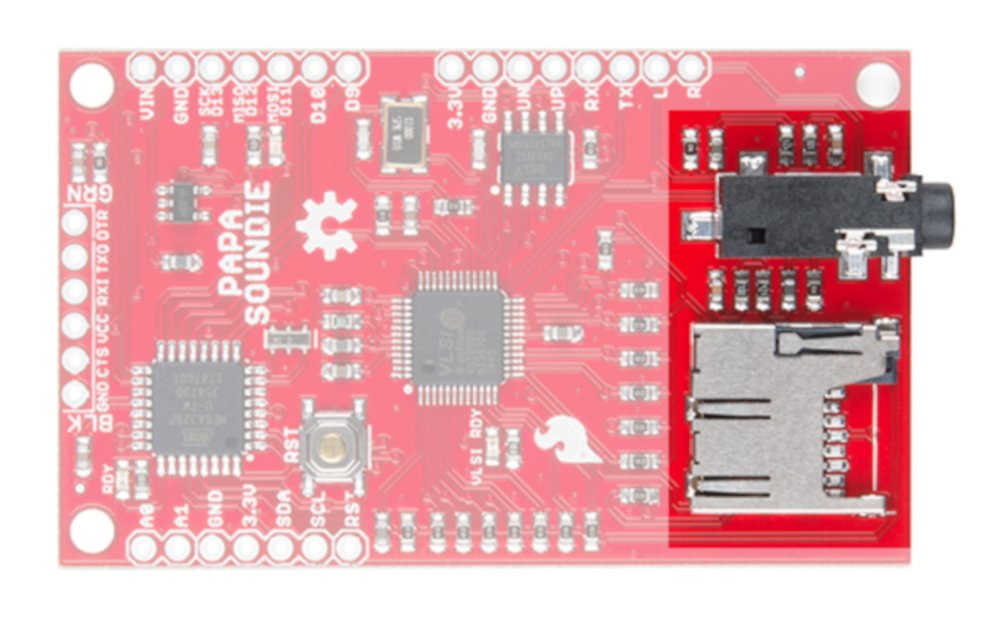 Specification
Supply voltage: from 3.3 V to 6 V
The voltage signals are 3.3 V logic (no 5V tolerance)
Microcontroller: ATmega 328P
Built-in memory 4 MB SPI Flash
Audio playback with SD cards
Decoder OGG Vorbis
Support Wav files
Analog output Line-Out SNR > 90 dB
Support for various bitrates and sample rates
Interfaces: I2C, SP
2 analog inputs
7 digital I/O (including 3 PWM)
Dimensions: 62 x 37 mm