Attention!
The product has been discontinued. Check other products in category.
Description
Module from Seeedstudio, it combines the microcontroller ATMega 32u4 and the Dragino HE system using Atheros AR9331 controller so the wireless programming is possible and control of the device via wi-fi network. It has20 digital input/outputs, 7 of which can be used as PWM outputs (e.g. for motor control) and 12 as analog inputs. The system works with the clock signal with the frequency of 16 MHz, it has 32kB of Flash and 2.5 KB of SRAM.
Thanks to compatibility withArduino Yun, it is possible to usethe Bridge library available form the level of Arduino IDE so you can simply, wirelessly, via wi-fi network, program, configure, or modify and read the status of pins.After connecting the power supply (5 V viapower supplywith micro USB connector), the module is visible on PC as a wi-fi network with the name of SeeeduinoCloud-AXXXX.
Key features
Microcontroller

ATMega 32u4

Module

Atheros AR9331

Compatible with Arduino Yun

2

connectors for connection of sensors from Grove series
Installed OpenWRT system
WiFi 2.4 GHz, 802.11 b/g/n
USB 2.0
Work with a voltage of 3.3 V
The distribution of connectors is compatible with the Arduino so the shields will work correctly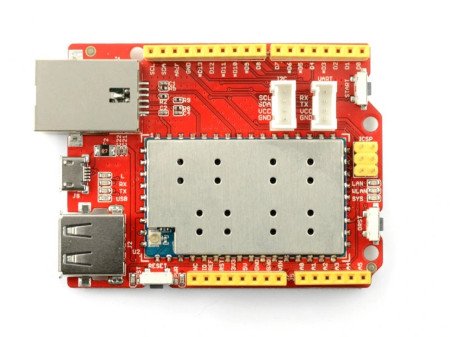 The manufacturer provides a detaileduser's manualshowing the step by step installation and configuration of the device.
Specification
Supply voltage: 3.3 V
AVR microcontroller:

ATmega32u4

Maximum clock frequency: 16 MHz
SRAM: 2.5 KB
Flash memory: 32 KB (4 KB is reserved for bootloader)
EEPROM: 1 KB
I/O Ports: 20
PWM outputs: 7
Number of analog inputs: 12 (channels of A/C converter with 10-bit resolution)
Serial interfaces: UART, SPI, I2C
External interrupts

Linux processor:

Atheros

AR9331

Architecture:

MIPS 400 MHz

Supply voltage: 3.3 V

Ethernet IEEE 802.3 10/100Mbit/s
Wi-fi IEEE 802.11 b/g/n
RAM: 64 MB DDR2
Flash memory: 16 MB

USB-2.0 connector
RJ45 connector