Attention!
The product has been discontinued. Check other products in category.
Description
The module is based on the STM32F0 system that allows you to connect computer or microcontroller to the LIN 2.1 bus. It communicates via USB plug and serial UART - RX, TX interface. The system works with a voltage of 5 V. In Windows / Linux is seen as a virtual COM port.
Connection
The table describes the pins description of the module.
| Pin | Description |
| --- | --- |
| BAT+ | Power Supply of 5 V. |
| GND | The ground of the system. |
| TX | Communication line of the receiver of the serial interface. |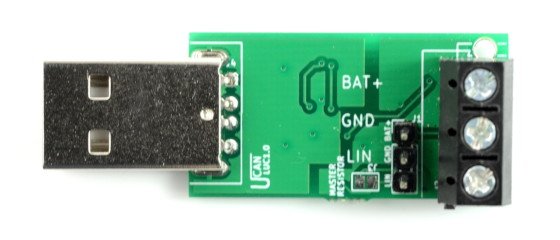 The system hasscrew connectionand pins goldpin connectors of 2.54 mm pitch.
Specification
Support for LIN in 2.1 version
Monitor mode: to receive all frames and the transmission of single frames 
Master mode: with up to 15 places for frames
Transmission speed: 19200 b/s
Optical isolation for LIN
For LIN network, required is an external voltage from 4.5 V to 28 V
the terminating resistors controlled by the software
Compatible with SLCAN, it works with Linux and some CAN programs
USB connector
Screw connector
Module dimensions: 34 x 18 mm
Video tutorial showing the service of the converter.