Description
Multimeter enables to measure DC and AC current up to 700 V, DC up to 15 A and resistance to 20 Megaohms. The device has a function of measuring temperature, capacitance, frequency, backlit display, warning sound, measuring parameters of the led, exceeding the range, battery tester, continuity test with a buzzer, overvoltage protection and recording function.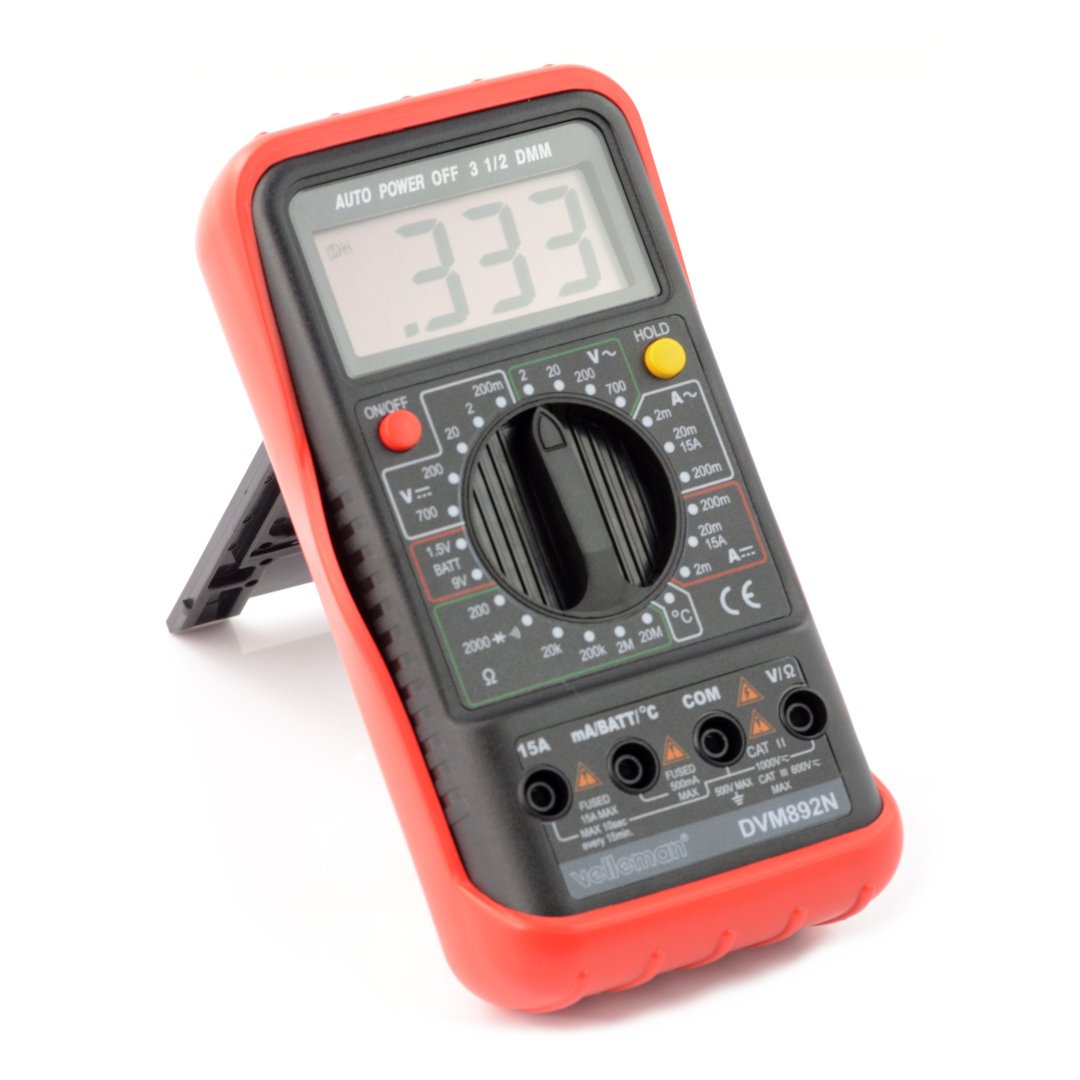 The meter is powered by the popular battery 1 x 9 V 6LR61 included in the package. The battery discharge is displayed on the digital indicator. Everything is enclosed in a protected, original box.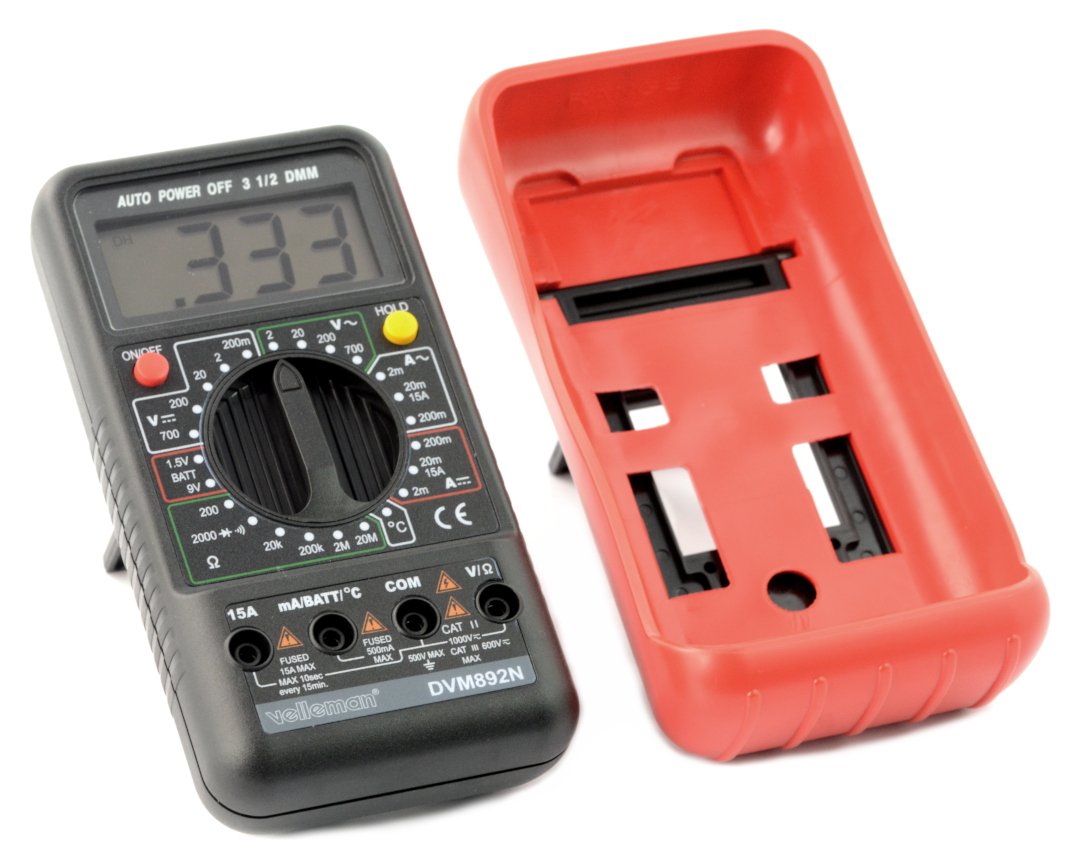 Features
KAT. II 700 / CAT. III 600 V
24 ranges
digital multimeter DMM with automatic polarity indication and LCD display 3 1/2-digits
measurements: DC current up to 15 A, voltage DC and AC current up to 700 V, resistance up to 20mω
temperature, diode tester, batteries and continuity test with buzzer
indication of low battery level, over-voltage protection and data memory function
with a protective hard case
SET OF TEST LEADS WITH PVC - CAT. IV 600 V - 15 A - 18 AWG - 75 cm in LENGTH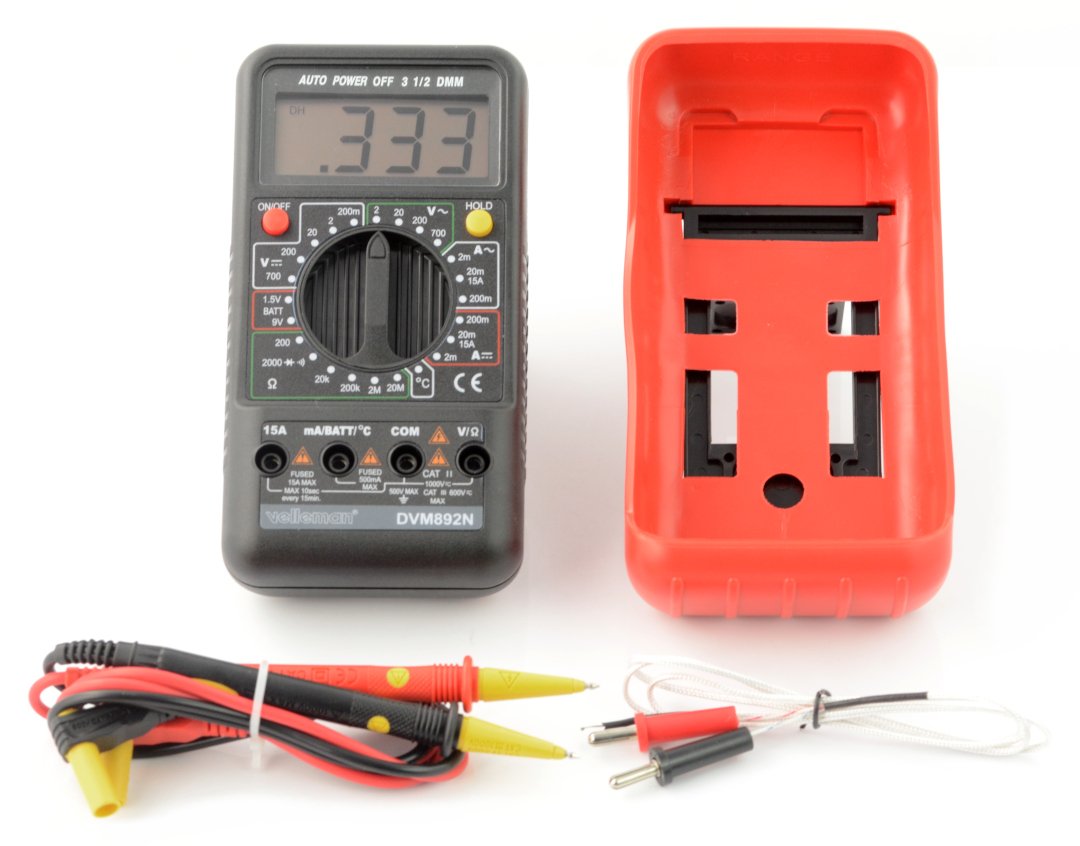 Set includes
Multimeter Velleman DVM 892N.
Test leads.
Test leads.
Protective case.
Batteries1 x 9 V 6F22
English and Polish manual
Warranty: 24 months.
Technical specification
Option
Range
DC voltage

200 m / 2 / 20 / 200 / 700 V

AC voltage

2 / 20 / 200 / 700 V

DC
 

2 m / 20 m / 200 m / 15 And

AC

2 m / 20 m / 200 m / 15A

Resistance

200 / 2 k / 20 k / 200 k / 2 M / 20 mω

Capacity electric

0-51,2 NF / 512 NF / of 5.12 UF / 51.2 per UF / 100 UF

Frequency

no
Battery tester

Yes,1.5 V / 9 V


basic accuracy: ± (5,0% V. M. + 5 digits)
overload protection: fuse 0.5 A / 600V
overload protection: fuse 0.5 A / 1000 V

Temperature

Yes,-50-150 / 150-800 °C

basic accuracy: ± 3°C ± 1 digit in the range -50°C~150°C / ± 3%.m. ± 1 digit - with the volume of 150°C~800°C
overload protection: fuse 0.5 A / 1000 V

Continuity measurement

if a resistance is less than 50 Ohms, built-in buzzer beeps

Diode Tester


Yes

Warning sound
Yes
Exceeding of the range
Yes
Battery indicator
Yes
Display
LCD display (61 x 26 mm) up to 2000 characters
The maximum display value
3 3/4
Mode selector
Yes,manual
Transistor tester
not
Memorization of data
Yes
Backlight
no
automatic shut-off
Yes

Dimensions

165 x 85 x 37 mm

Weight ( with battery)

215 g

Power supply
battery

1 x 9 V battery, 6LR61 (included)

Probe

KAT. III 600V, 12 A, L = 75 cm