Attention!
The product has been discontinued. Check other products in category.
Description of the product: Grove - 4-channel solid state relay
Module from the Grove series with 4-channel relay SSR with control voltage of 5 V and rated voltage of contacts of 240 V AC and 2 A. Due to the application of semiconductor technology, the relay has no mechanical contacts which positively affects the service life of the equipment. The lack of contacts means no noise during switching.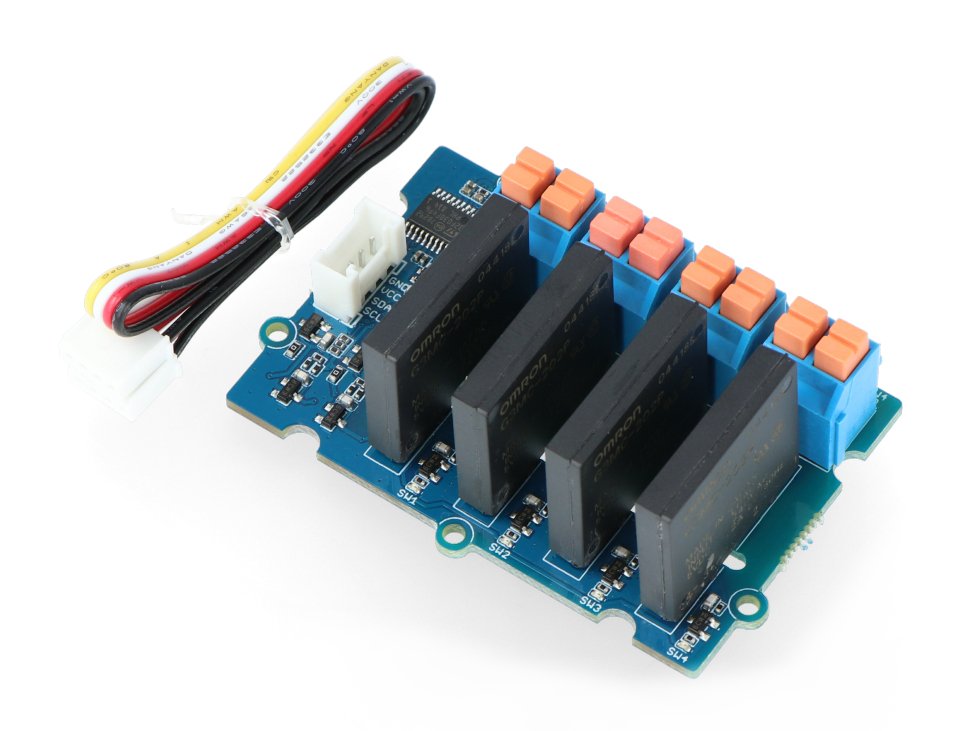 Grove - 4-channel solid state relay.
Relay from Grove is based onhigh quality G3MC202P module that allows you to use5 V DC to control ofmax. 240 V AC. The module hasfourchannels that can be controlled separately. Thanks to the Grove interface, themodule can be operated in a simple and easy way using Arduino.
Features and application of 4-channel solid state relay from Grove
The advantages to mechanical relay:
Completely silent operation.
The lack of physical contact which means no sparks.
Extended lifespan.
Compact and thin-walled design SSR.
Disadvantages in relation to the mechanical relay:
After closing, there is the higher resistance (heat generation).
Increased electrical noise.
Works only for AC loads.
The use of solid state relays:
During operations that require switching with the low delay, for example, a phased inspection of light
Devices that require high stability, such as medical devices.
Situations requiring protection  from explosion, stain, resistant to moisture, such as coal industry, chemical industry.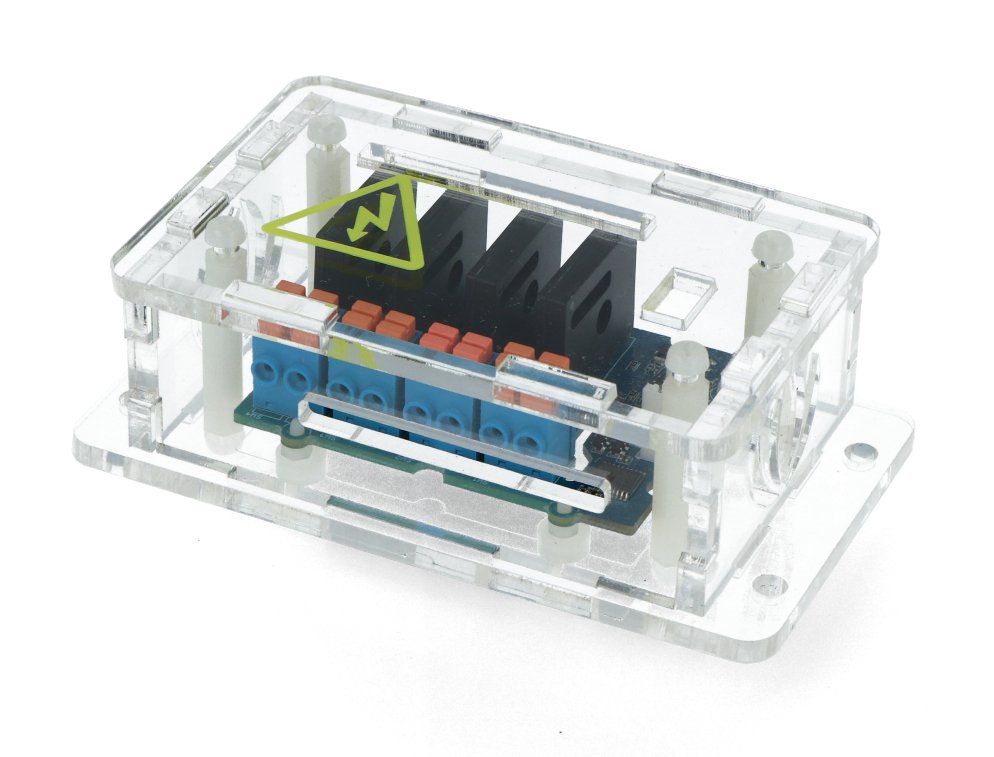 Grove - 4-channel solid state relay in an acrylic case.
Connecting the Grove relay
The module is equipped with Grove interface facilitating its connection to the Arduino along with Base Shield v2.0 using the supplied cable.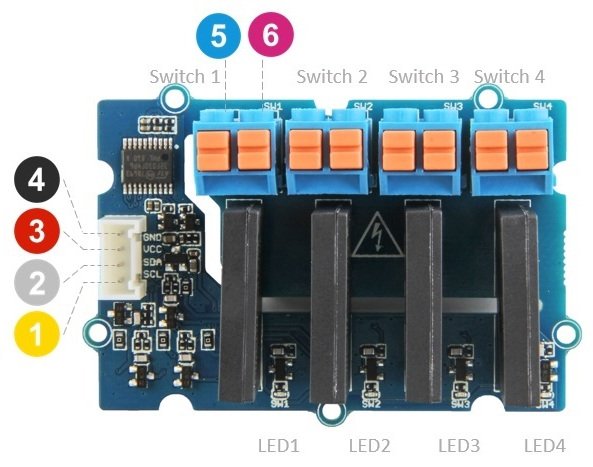 | Pin | Description |
| --- | --- |
| 1. CTR1 | Input control signal for switch 1. |
| 2. CTR2 |  Input control signal for switch 2. |
| 3. VCC | The power of the module is 5 V. |
| 4. GND | The ground of the system. |
| 5. Load 2 | One port of the switch # 1 for connecting to the cable of the load. |
| 6. Load 1 | The second switch port number 1 to connect the cable of the load. |
| 8. Load 1 | The second port of the switch no. 2 to connect the cable of the load. |
Technical specification of the Grove module with 4-channel solid state relay
Option
Range
Input working voltage 
from 4 V to 6V
Rated input voltage
5 V
Rated load voltage
100 V to 240 V AC 50/60 Hz
Load voltage range 
from 75 V to 264 V AC from 50/60 Hz
Load current
from 0.1 A to 2 A on switch
Leakage current
1.5 mA max. (at 200 VAC)
Insulation resistance
1,000 MΩ min. 500 V DC
Working temperature
from - 30°C to 80°C
Input interface
Digital
Set includes

4-channel solid state relay
Grove cable 
Acrylic body with the mounting elements