Attention!
The product has been discontinued. Check other products in category.
Product description: Carbon monoxide (Chad) sensor Kidde 7CO - battery for 10 years
New generation carbon monoxide sensor equipped with anelectrochemical sensor.The Kidde 7CO guarantees a 10 yearservice life.It is equipped with aTest / Resetbutton to check the correct operation of the device or switch off the alarm signalling. The sensor, thanks to its special shock-resistant construction, can be installed not only in houses and flats but also in caravans, campers and boats.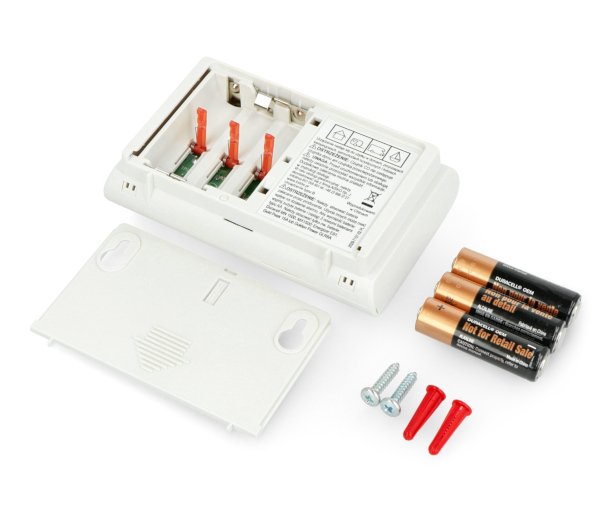 Contents of the Kidde 7CO Chad sensor kit
It has a BSI certificate confirming compliance with PN-EN50291-2:2010 and PN-EN50291-1:2010/A1:2013-05. The sensorcan beinstalled on a wall or placed on a flat surface. After 10 years from activation, the device will inform about the necessity of its replacement. The sensor is powered by three1.5 V AAbatteries(included).
Main features of the Kidde 7CO
Electrochemical sensor, one of the best in the world

10 year warranty

Loud alarm

Test / Reset button

Battery power supply

Can be mounted on the wall or placed on a flat surface

Signalling abnormal operation or the end of an operation period

Low-voltage power supply signalling

Easy to install and operate

Small dimensions and weight

Aesthetic and robust housing

Low operating cost
BSI certificate confirming compliance with the PN-EN50291-1

:2010/A1:2013-05

standard
Kidde 7CO sensor specifications
Sensor: electrochemical
Power supply: DC or three 1.5 V AA batteries (supplied)
Installation: wall-mounted or as a free-standing unit
Operating temperature: 0°C to 40°C
Storage temperature: from -10°C to 60°C
Humidity: up to 90% RH
Signalling of exceeded CO concentration: acoustic 85 dB and optical (red LED)
Low power level indication: short beep every 60 seconds and flashing red LED
Malfunction indication: two short signals every 30 seconds and a flashing red LED every 30 seconds
End of period indication: two short signals every 30 seconds and a red LED blinking twice or a red LED lights up and a continuous alarm sound
Test / Reset button: to control and operate the device/ When the button is pressed, the device performs a control test. and if an alarm is activated, it can be turned off
Alarm activation time: alarm thresholds according to PN-EN50291-1

:2010/A1:2013-05:

30 PPM: no alarm before 120 minutes

50 PPM: it has to alert within 60 - 90 minutes

100 PPM: it has to alert within 10 - 40 minutes

300 PPM: it has to alert within 3 minutes

Certificates:


PN-EN50291-1:2010/A1:2013-05 - Approved for use in houses and flats

PN-EN 50291-2:2010 - Approved for use in caravans, campers and boats

Dimensions: 118 x 70 x 40 mm

Weight: 160 g