Attention!
The product has been discontinued. Check other products in category.
Description: ICM-20948 9DoF - 3-axis accelerometer, gyroscope and magnetometer I2C/SPI Qwiic - SparkFun SEN-15335.
The SparkFun module is a combination of a3-axisgyroscope, accelerometer and compass. It allows youto measure acceleration, magnetic field and angular velocity in configurable ranges. A motion tracking device with extremely low power consumption and SPI and I2C communication interfaces. Poweredfrom 1.95 V to 3.6 V.
ICM-20948 module outputs
The outlets are the fields to be soldered goldpin connector 2.54 mm raster (not included). They make it possible to connect the board with the main module (e.g.Raspberry PiwhetherArduino) by means of cables. The second possibility, much simpler, is to connect the sensor using STEMMA QT / Qwiicconnectors.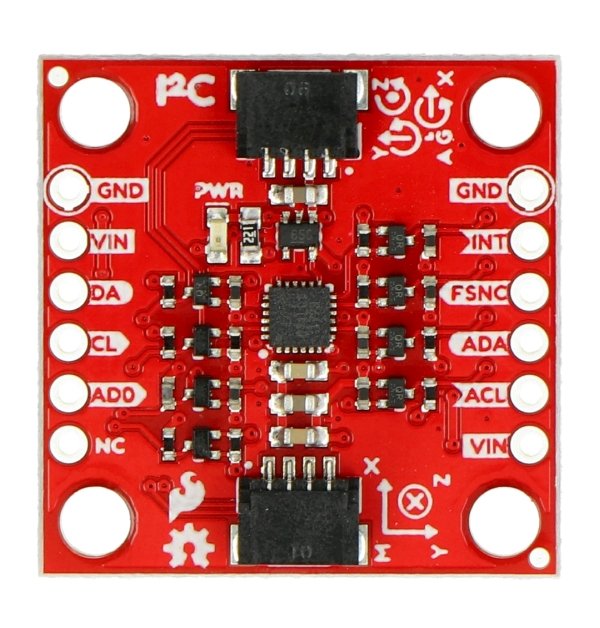 | Pin | Description |
| --- | --- |
| VIN | Power supply from 1.95 V to 3.6 V. |
| GND | The weight of the system. |
| SDA/ADA | I2C / SPI bus data line. |
| SCL/ACL | I2C / SPI bus clock line. |
| INT | A digital break. |
| FSYNC | Synchronize measurements with the signal coming out of the microcontroller. |
| AD0 | I2C address control from the software. |
Technical specification
Supply voltage: 1.95 V to 3.6 V

Gyroscope

3 axes: X, Y, Z

Adjustable range: ± 250 dps, ± 500 dps, ± 1000 dps, ± 2000 dps

Accelerometer

3 axes: X, Y, Z
Adjustable range: ± 2 g, ± 4 g, ± 8 g, ± 16 g

Magnetometer

3 axes: X, Y, Z
Measuring range: up to ± 4900 µT

Interface: I2C, SPI

Frequency

I

2

C: up to 100 kHz (standard mode)

I2C: up to 400 kHz (fast mode)

SPI: up to 7 MHz for communication with registers

Built-in digital motion processor (DMP)

Temperature sensor with digital output