Attention!
The product has been discontinued. Check others products incategory.
Product specification: Universal timer IC NE555 - SMD
Supply voltage: 4.5 to 16 Volts
The maximum power dissipation of 600 MW
Maximum output current 100 mA
Current at 5 V supply voltage: 3 mA
Current at a voltage of 15 V: 10 mA
The pins of the IC NE555:

1. GND - ground of the system
2. TRIGGER - trigger input. When a voltage lower than 1/3 of the supply voltage is applied to this input, the system is triggered and a high state appears at the output.
3. OUT - output of the system
4. RESET - specifying a low state resets the system. When the output is set to low, the external capacitor is discharged.
5. CONTROL area is designed to change the proportions of the internal voltage divider.
6. THRESHOLD comparator input for disconnecting the internal flip-flop. When voltage higher than 2/3 of the supply voltage appears at this input, the system output will be set to low.
7. DISCHARGE output used to discharge an external capacitor. This is the output of the collector of the internal transistor.
8. VCC - power of the chip.
Diagram of NE555

1. Comparator disabling the trigger
2. Comparator enabling the trigger
3. Resistor divide (R=5kOm)
4. Trigger
5. Discharging transistor.
Resistor divider sets the threshold voltage for comparators respectively 1/3 (1) 2/3 (2) of supply voltage.
Application of IC NE555
The basic modes of NE555 IC operation are: generator in monostable mode and astable mode.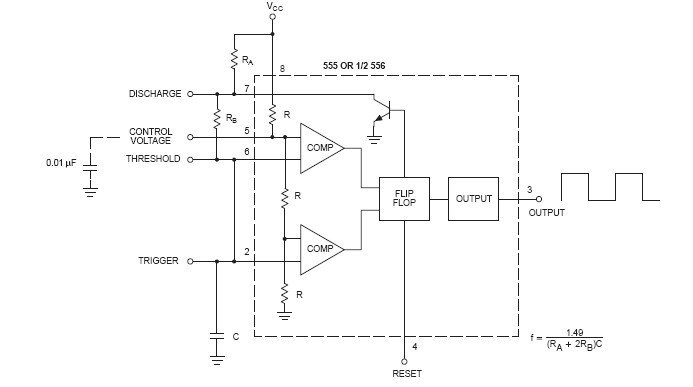 IC in astable mode.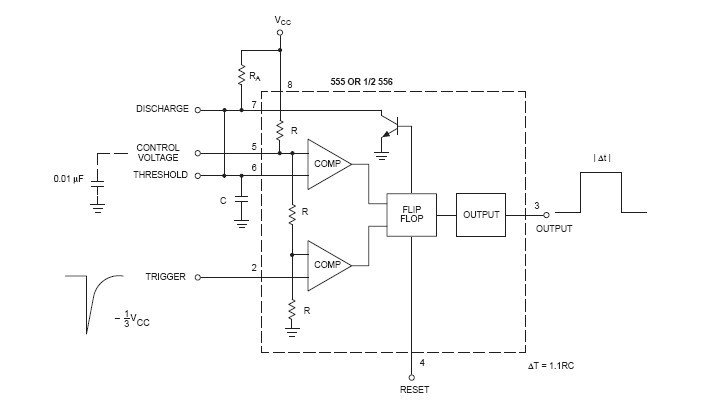 IN in monostable mode.
In out range there is also an IC in THT case.
Details intechnical documentation.