Attention!
The product has been discontinued. Check other products in category.
Product description: RakWireless RAKBox-B2 enclosure - for WisBlock - with solar panel - white
RAKBox-B2enclosureinwhitecolour produced by Rak Wireless. It has been equipped with solarpaneland made of3 mmthick material. It protects the base module from mechanical damage, hasIP67protection level and can be used in industrial IoT projects. It is designed for outdoor use.
Technical specification of the enclosure
Colour: white
Degree of protection: IP67
Material thickness: 3 mm
Compatible with: WisBlock RAK5005-O / RAK4631 / RAK1901 / RAK1902 / RAK1904 / RAK1906 / RAK1910 / RAK5801 / RAK5802 / RAK5811 / RAK5804 / RAK2305 / RAK5860
Possible to mount on pillar
Dimensions: 95 x 65 x 58 mm
Weight: Approximately 211 g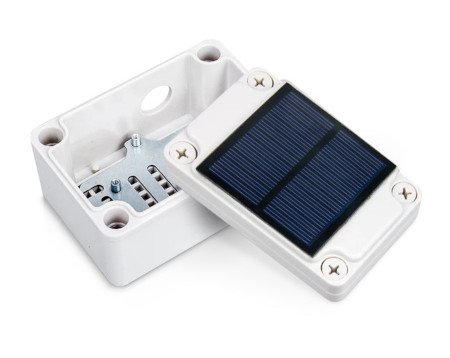 There is a solar panel on the top of the case.