Attention!
The product has been discontinued. Check other products in category.
Product description: Voltcraft Energy Logger 4000
Meterallowing to obtain information about theenergy consumption of electrical devices. Allows identification of loads consuming the largest amounts of electricity. TheVoltcraftEnergy Logger 4000 can take measurements for up to 6 months, storing the results in itsbuilt-in memory. It is possible to transfer them to an SDHC memory card, which is not included. The meter has a three-level display that shows energy consumption values, power factor cos φ, frequency and current voltage (also its minimum and maximum values). Energy Logger 4000 registers power changes on the level of 0.1 W.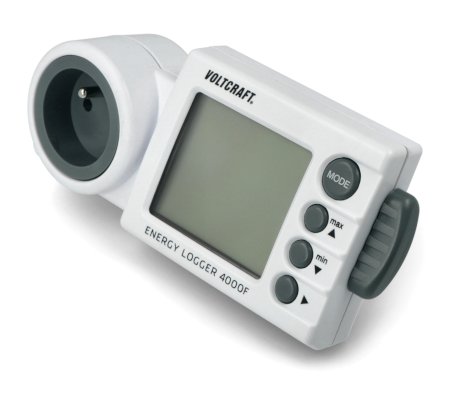 Voltcraft Energy Logger 4000 energy consumption meter.
Power consumption meter Voltcraft Energy Logger 4000 specification
| Parameter | Range |
| --- | --- |
| Operating voltage | 230 V AC |
| Maximum current | 15 A |
| Minimum current | 0,01 A |
| Frequency | 50 Hz |
| Maximum power consumption | 9999.9 kWh |
| Minimum value of power consumption | 0 kWh |
| Maximum active power | 3500 W |
| Minimum active power | 0,1 W |
| Accuracy | 1% |
| Maximum recording duration | 180 days |
| Display | digital |
| MID permission | no |
| MID permission | no |
| Power supply | Battery CR 1620 3V (backup) |
| Dimensions | 164 x 82 x 83 mm |
| Weight | 240 g |
Functions Voltcraft Energy Logger 4000
Measurement of active power
Measurement of power consumption
Power factor cos φ
Nominal voltage measurement
Current measurement
Frequency measurement
Constant value logging up to 6 months
Report of daily energy consumption of the last 9 days
Consumption cost forecast
Battery CR 1620 3V, enabling saving settings despite of power supply failure(included)
Contents of the meter set
Voltcraft Energy Logger 4000 energy consumption meter
Voltsoft software
User manual