Attention!
The product has been discontinued. Check other products in category.
Description: Crossing with tracks - mechanical model kit - veneer - 200 pieces - Ugearsmodels 70014
The kit consists of 200piecesmade of high qualityveneer(plywood) from the companyUgearsmodels. Each piece is precisely made by using a laser cutting method. After assembling, the wooden jigsaw puzzle forms acrossing with tracks, which is a supplement to the kit containingthe locomotive - UG 46. The modeldoes not have any electroniccomponents, and all movable parts move thanks to the use of a rubber band. The package contains plywood boards from which it is enough to pressready elementsand connect them together according to the illustrated instructions included in the set. Noglueor additionalassemblyparts are required to assemble the model. Assembly takesfrom 2 to 3 hours.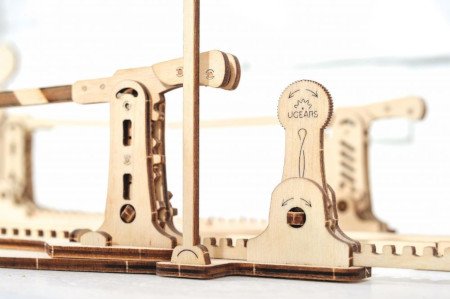 The model with a crossing is an excellent supplement to the set witha locomotive. The set can be purchased separately in our shop.
Special features of the crossing model
Unusual and realistic appearance
Construction and design in a style of the 19th century
The set includes 4 metres of track and a complete level crossing - signal lights and barriers
The barrier can be raised and lowered using a lever
The elements can be set in motion by means of a rubber band hooked between the elements (for details, see the manual)
Ugearsmodels series is a series of wooden models without gluing, which consists of three-dimensional puzzles
Technical specification of the set
Model: crossing with tracks
Type: mechanical model
Model designed for self-assembly without glue
Language of instructions: UKR, ENG, DEU, FRA, POL, SPA, ITA, RUS, JAP, KOR, CHI
Material of the elements: veneer
Number of elements: 200 pcs.
Level of difficulty: easy
Assembly time: 2 to 3 hours
Dimensions of the model: 4070 x 120 x 225 mm
In our offer you can find also other mechanical models fromUgearsmodels.