Attention!
The product has been discontinued. Check others products in category.
Product description: MAG3110 3-axis digital I2C magnetometer - SparkFun module
Sensor (compass) for measuring a magnetic field in three axes. It is characterized by small size, low energy consumption and usage simplicity. It communicates via the I2C bus.
For communication with the central unit, the popular I2C bus (TWI) is used. The module has necessary for the correct operation of the system, passive elements, including resistors pulling up the bus line, which can be disabled by unbrazing the jumper.
The pins are holes for the popular goldpin connectors, 2.54 mm pitch (not included) to connect the sensor via wires or directly attach to the breadboard.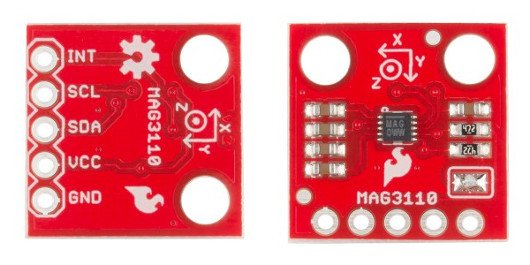 Since the maximum voltage with which the system works, is 336 V, to work with Arduino needed is a voltage converter. The exceptions are the modules operating with voltages of 3.3 V, for example, Arduino Pro Mini 328 - 3.3 V/8 MHz.
The pins of the magnetometer
The sensor has four pins for mounting the goldpin connectors - pitch of 2.54 mm (not included in the set, sold separately).
| Name | Description |
| --- | --- |
| VCC | The module's supply voltage is in the range from 1.95 V to 3.6 V |
| GND | The ground of the system. |
| SCL | The clock line of the I2C bus (TWI). |
| SDA | The data line of the I2C bus (TWI). |
| INT | External interrupt - details in the documentation. |
Specification of the 3-axis SparkFun magnetometer
The supply voltage: 1.95 V - 3.6 V
Three axes: X, Y, Z
Communication interface: I2C (TWI)
Built-in pulling-up I2C resistors of 4.7 kΩ with the possibility to disable via jumper's unbrazing
Measuring range: ± 10 gaus (±1000 µT)
Resolution: 12 bits for each axis
Sensitivity: 1 mile gaus (0,1 µT)
Board sizes: 13.5 x 14.5 mm