Attention!
The sale of the product has been completed. Check others in this category.
Product description: PololuA-Star 32U4 Mini SV - Atmega32u4
A-Star, like Arduino Micro, is based on Leonardo module - it uses Atmega32u4 microcontroller from AVR family. It is equipped with 26 digital inputs/outputs, 7 of which can be used as PWM outputs and 12 as analogue inputs. The chip works with 5 V, clocked with a 16 MHz clock signal.
The advantage of the A-Star Mini SV module is the ability to supply high voltage from 5 V to 36 V.
In our offer you will find: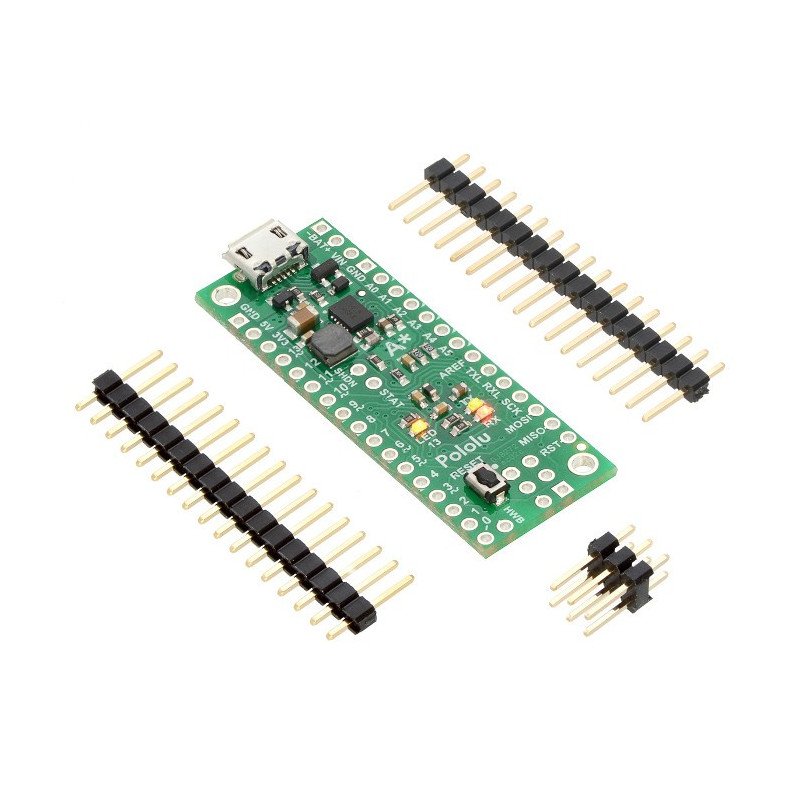 Unlike Arduino Micro, it has no soldered connectors (goldpin bars are included). The user can decide which terminals he will need, so the board can keep its small size.
Outputs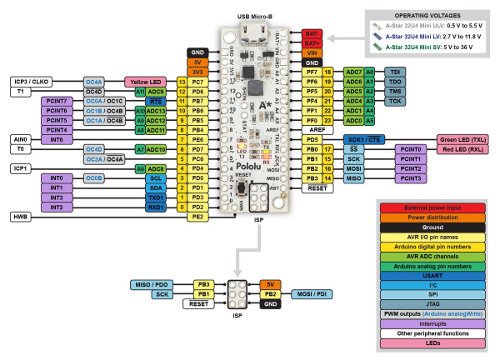 The above figure shows the layout of the outputs of the A-Star Mini module by Pololu. The I/O pins (inputs/outputs) with the ATmega32u4 documentation compliant name are marked in yellow, the analogue inputs of the A/C converter are marked in green.
Programming
Creating and uploading software enables free Arduino IDE environment. Implemented bootloader allows to upload program directly via micro USB cable. Detailed description can be found in the manual provided by Polol company.
Pololu A-Star specification
Power supply voltage:

From 5V USB socket
External VIN: 5 V to 36 V

Microcontroller: ATmega32u4

Flash memory: 32 kb
SRAM: 2.5 kb
Clock: 16 MHz
The voltage of the leads: 5 V
Pins I/O: 26
PWM channels: 7
Number of analog inputs: 12
Serial interfaces: UART, SPI, I2C
Built-in full-speed USB controller
External interruptions

Built-in impulse voltage regulator with current capacity up to 0.5 A
Three LEDs at your disposal
RESET button
Outgoing ICSP connector for connecting an external AVR programmer
Micro USB connector for programming(microUSB cable sold separately)
Module compatible with Arduino IDE environment
Soldering goldpin connectors included
Dimensions: 48.5 x 18 mm
Weight: 3.5 g (without connectors)