Attention!
The product has been discontinued. Check others products in category.
Description
Gertbot is a module that extends the capabilities of the Raspberry Pi, version B and B+, it is connected directly to connectors of the input/output with general purpose (GPIO) of minicomputer. You can, for example, control four DC motors, as well as support devices with high current consumption. Through the use of a single microcontroller, it does not occupy resources of CPU of raspberry.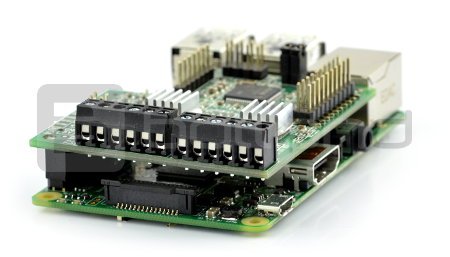 Board for Raspberry Pi B / B+, equipped, i. a. in a microcontroller with ARM Cortex M3 core, four-channel driver of motors with the parameters of the 30V / 2.5 A for each motor, two outputs, open drain 30 V / 3 A and converters A/C and C/A. It works with the command system DCC.
Specification
Four-channel driver of motors - H bridge: 8 V-30 V, 2.5 A, configurable: 2x 5 A or 1x 10 A
Two outputs, type open drain 30V, 3A
Embedded MCU 64 MHz with ARM Cortex-M3 core
Led-out connectors of serial interface
20-pin connector to connect
Auto-shutdown of motors
Four channels of A/C converter
Two output C/A converter
16 pins of GPIO
Programmable control of the stepper or brushless motor
Control via the command system DCC
Short-circuit and temperature protection
Emergency shutdown system