Attention!
The product has been discontinued. Check other products in category.
Description: Distance sensor Leddar M16 - 100m 95°
Leddar M16 is an advanced distance sensor, consisting of 16 separate modules. It is characterized by rapid and accurate measurement in the range from 0 to 100 m with the accuracy of up to 5 cm and emition of the beam in the range of 95 °.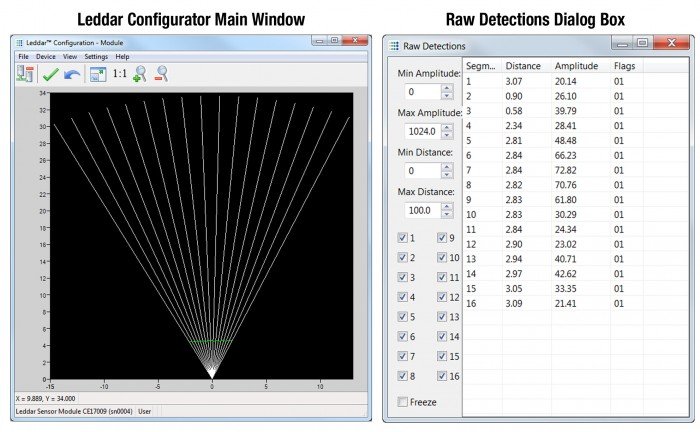 A screenshot of the measurements of the sensor, details can be found inthe technical documentation.
The module is equipped with software Leddar Enabler SDK which has a user-friendly interface. In addition, it includes libraries .NET and C++ and sample code of the program for RS-485 / MODBUS for Windows and Linux, as well as examples of integration with the environment LabVIEW and MatLab.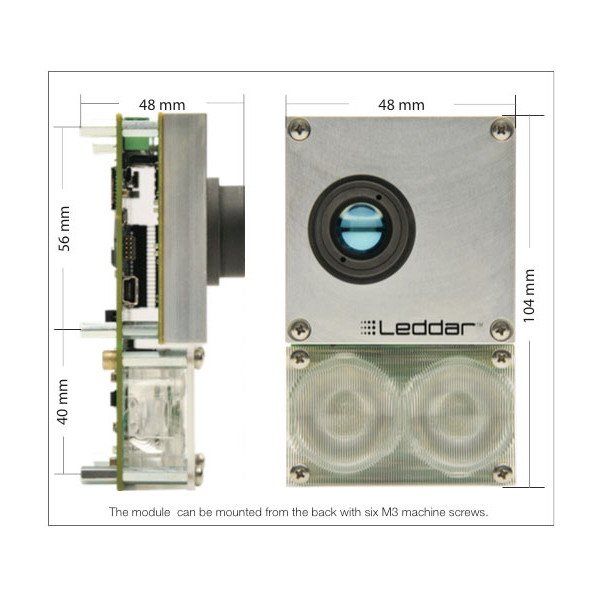 Sensor dimensions.
The main features of the module Ladder M16
Proven reliability even in difficult conditions
Resistance to ambient light
No movable parts
Easy integration with other systems thanks to the software
Low energy consumption
Excellent ratio of quality to price
Specification
The radius of the beam: 95 °
Detection range: 0 to 100 m
Accuracy: 5 cm
Data update frequency: from 6.25 Hz to 100 Hz
Resolution: 10 mm

Power consumption: 4 W


Interfaces: USB, RS-485, CAN, UART

The wavelength of light: 940nm

Power supply: 12 V or 24 V DC (selection through jumper)

Operating temperature: -40 °C to 85 °C

Dimensions: 104 x 66 x 46 mm

Weight: 180 g