Description
Yuneec Typhoon is a quadrocopter equipped with 3 axis gimbal with 4k (Ultra HD) 120 fps camera. It is ideal for beginners as well as more experienced pilots for both commercial and recreational use. The included control unit enables live viewing from the camera. The battery allows for 25 minutes of flight. The set also includes an additional manual gimbal.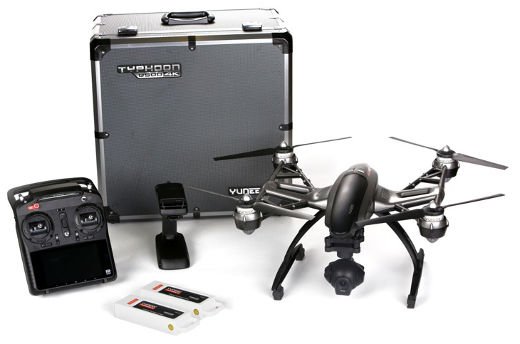 In addition to the gimbal mounted to the quadrocpter, the set includes an additional hand gimbaland twobatteries and a suitcase on wheels.
No image distortion
Getting a stable image has never been so easy! Rise up into the air and get amazing shots with a 4k camera. Create professional-quality photos and videos! Travel and capture your moments with amazing flight modes! The CGO3 camera offers 115 wide-angle lenses so the image is free of horizon distortion and lets you record the actual picture.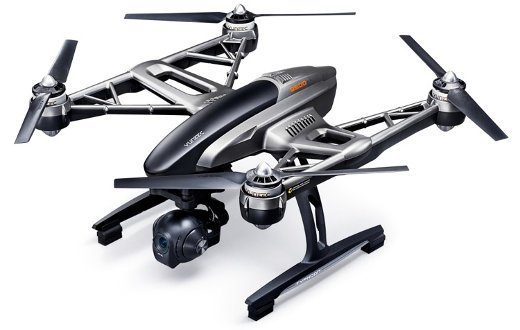 Telemetric data on screen
Real-time telemetric data is available on the screen during the flight, we can see, among others, altitude, speed, distance from the transmitter, camera status, GPS coordinates, position and battery status. We can also remotely change the on-board camera settings such as recording resolution and white balance, ISO. The camera also allows to take pictures in JPEG, RAW(DNG).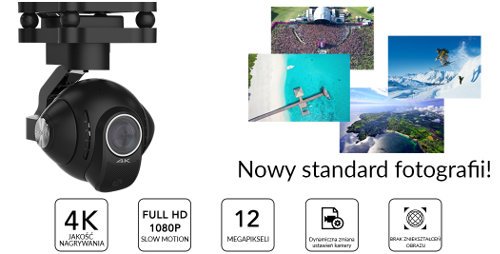 All functions in one controller
The included ST10+ transmitter is an apparatus that has all the necessary functions to fully control the quadrocopter during flight. Equipped with a 5.5 inch touch screen, it displays current telemetry data. The equipment works on the basis of the Android system, there is no need to install any additional functions.
Specification Yuneec Typhoon Q500-4K
Name
Description
Flight time
up to 25 minutes
Weight with battery
1700 g
Weight without battery
1130 g
Battery

LiPo 5400mAh 3S 11.1V (included).

Charger
Charger with AC adapter for charging 3S 11.1V LiPo batteries (supplied).
Video transmitter
10-channel, 2.4 GHz + 5.8 GHz with video transmission (included).
Operating frequency of the equipment
2.4 GHz
Flight modes
Follow Me / Watch Me / Return Home
Speed of rotation
up to 65 °/s
Operating temperature
from -5°C to 80°C
Speed of climbing
up to 2 m/s
Maximum speed

17m/s / 27km/h (Angel Mode),
22m/s / 35 km/h (Follow Me/Watch Me)
CGO3 gimbal and camera specifications
Name
Description
FOV (field of vision)
115°
Video transmission range

FCC (United States): 600 m
CE (Europe): 300 m

Quality of video recording

UHD: 4K in 30FPS, 2.7K in 30FPS, 2.5K in 30FPS
FULL HD: 1080p in 24/25/30/48/50/60/120FPS

Matrix
12 MPx
Supported card
microSD up to 128 GB
White balance
automatic or manual
Frequency of transmission
5.8 GHz
Input/output voltage
12 V
Operating temperature
from -10 °C to 50 °C
Storage temperature
from -20 °C to 60 °C
Control of gimbal
Rotation from 0 to 90°
Built-in microphone
Yes
Lens
14 mm, f/2.8, no distortion
Sensor
1/2.3'' CMOS
Equipment specification
Name
Description
Model
ST10+
Dimensions with antenna
242 x 188 x 115 mm
Number of channels
10
Range (with optimal settings)

FCC License (United States): up to 800 m
CE License: up to 400 m

Modulation
Yuneec Protocol
Frequency of the video receiver
5.8 GHz
Video transmission range

FCC License (United States): up to 600 m
CE License: up to 300 m

Telemetric parameters
Yes
LCD screen
5.5'' touch screen
Screen resolution
854 × 480 px
Power supply

LiPo 3.7 V / 5200 mAh - 18.72 Wh

Camera functions

White balance, light control, ISO, shutter speed, video resolution, FPS, video recording, photos
Specification of hand gimbal
| Name | Description |
| --- | --- |
| Dimensions | 223 x 181 x 75 mm |
| Weight (without camera) | 395 g |
| Compatible cameras | GO2GB / CGO2+ / CGO3 |
Included
A drone with gimbal and a camera
Memory card
2 x battery
Charger
Display control apparatus
Spare propellers
Hand Gimbal
Wheeled suitcase