Description
Brushless motor controller for current up to 30 A. The optimal power supply is the 2S - 4S li-pol packages (7.4 V to 14.8 V).It has the ability to connect the control signal through an optoisalotor and the installedBLHeli software.

Specification
Continuous current: up to 30 A
Supply voltage: 7.4 V to 14.8 V (Li-pol 2S - 4S packages)
Optoisolation for control signal
PWM signal frequency: 8 kHz
Maximum speed: 240,000 rpm
Installed BLHeli software
BEC output: none, opto input
Dimensions: 35 x 20 mm
Weight: 20 g
Details in thedocumentation.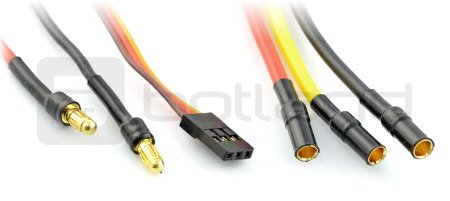 Multistar motor controller connectors.

The controller is characterized by:
Equal, linear acceleration control
Quick response to a given acceleration
Protection against sudden disconnection of the control signal
Support for frequencies above 480 Hz (up to 499 Hz)
Possibility of protection against unwanted motor start up

(throttle lockout)

It has the ability to connect a control signal via an opto-isalotor (details inthe documentation)