Attention!
The sale of the product has been completed. Check others in this category.
Product description: Tool set Stahlbar KL-12014 - 160 elements
Atool set consisting of 160 elements, including a hammer, ratchet wrench, caps, etc. The whole is in a durable case made of ABS material with external dimensions 35 x 35 x 8 cm. The offered product will allow you to create or retrofit your workshop with durable equipment that will make work easy and pleasant.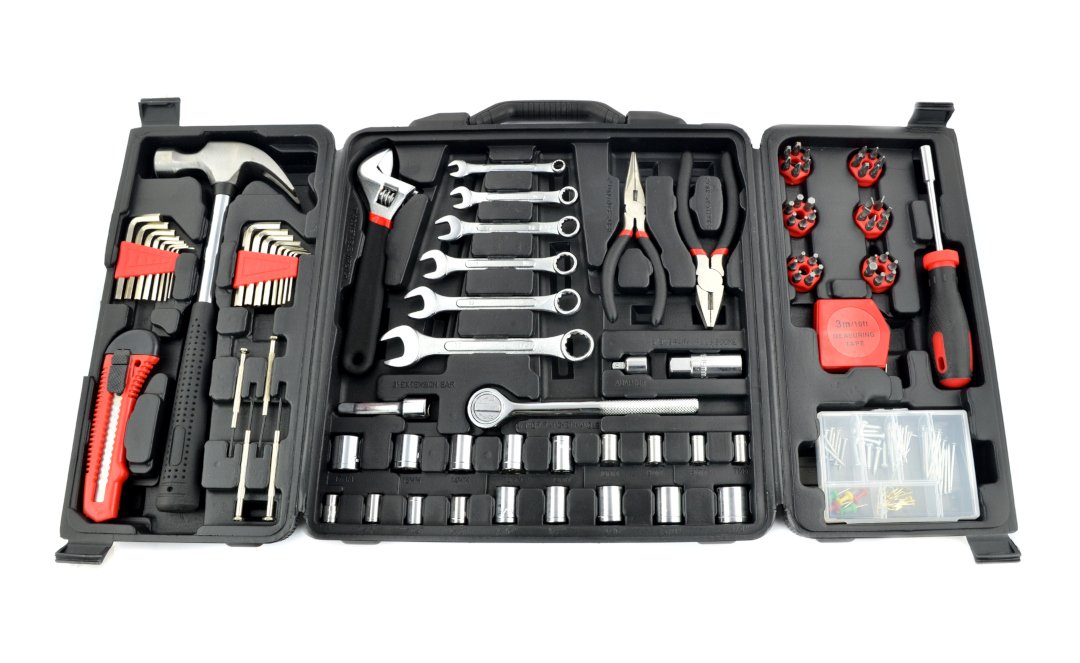 Set contents - 160 elements
The set includes:
1 x 0.34 kg hammer
1 x snap-off knife
4 x precision screwdriver
1 x adjustable wrench 8 "
16 x Allen key
6 x wrench
1 x semicircular pliers 6 "
1 x pliers 6 "
1 x socket wrench adapter
1 x socket socket wrench
1 x socket wrench extension
1 x socket wrench holder
18 x 3/8 " DR cap
36 x bit for screwdriver

Krzyżak: PZ0, PZ1, PZ2, PZ2, PZ3, PZ4, PH0, PH1, PH2, PH2, PH2, PH3, PH4
Flat: 3, 4, 5, 5.5, 6, 7
Gmbus: H2, H2.5, H3, H4, H5, H6, T10, T15, T20, T25, T27, T30, S0, S1, S2, S2, S3
Key to caps

1 x measuring tape 3 m
1 x bit screwdriver
69 x connector (nails, screws, pins)