Attention!
The product has been discontinued. Check other products incategory.
Description
Cable for minicomputer fromOdroidseries, which allows for the output of audio signal through the USB connector. It has a 3.5 mm output for connectingspeakers or headphonesand a microphone input. The module is based on a CM108AH from theconverters ADC and DACand amplifier.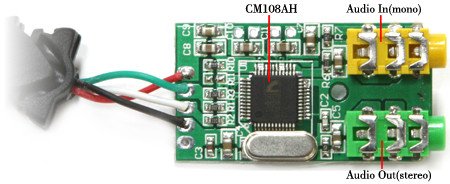 Printed circuit board of the module (visible after removing the case).
Specification
Meets standard USB 2.0 (12 Mbps)
CM108AH driver
Built-in Converter ADC, DAC, amplifier for microphone and headphones, PLL and the USB driver
Connectors:

input plug USB A
headphone output: Jack 3.5 mm
MIC in: 3.5 mm

Works with minicomputers:Odroid C0, C1, C2, XU4
Dimensions: 60 x 30 x 15 mm
Cable length: 130 mm
Weight: 33 g