Attention!
The product has been discontinued. Check other products in category.
Description
Cable for minicomputer from Odroid series, which allows for the output of audio signal through the USB connector. It has a 3.5 mm output for connecting speakers or headphones and a microphone input. The module is based on a CM108AH from the converters ADC and DAC and amplifier.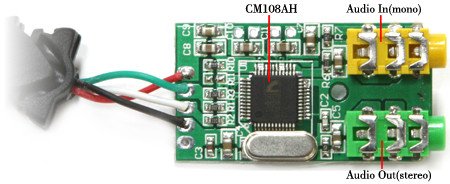 Printed circuit board of the module (visible after removing the case).
Specification
Meets standard USB 2.0 (12 Mbps)
CM108AH driver
Built-in Converter ADC, DAC, amplifier for microphone and headphones, PLL and the USB driver
Connectors:

input plug USB A
headphone output: Jack 3.5 mm
MIC in: 3.5 mm

Works with minicomputers: Odroid C0, C1, C2, XU4
Dimensions: 60 x 30 x 15 mm
Cable length: 130 mm
Weight: 33 g