Description
Printing pen, allowing you to create small crafts in an easy and simple way. The device will replace or complement a 3D printer. It can be used as a toy that develops your imagination. It can also be used as a tool for small repairs, filling in gaps in 3D printing or for simple connecting objects.
How it works
When power is applied, the pen heats up the filament, which is the material from which you will print. The built-in display shows your current operating temperature. The pen allows you to select the appropriate temperature for your filament material. Press the nib feed button to start printing the item. The second button with an arrow is used to remove the cartridge. The built-in slider allows you to set the print speed.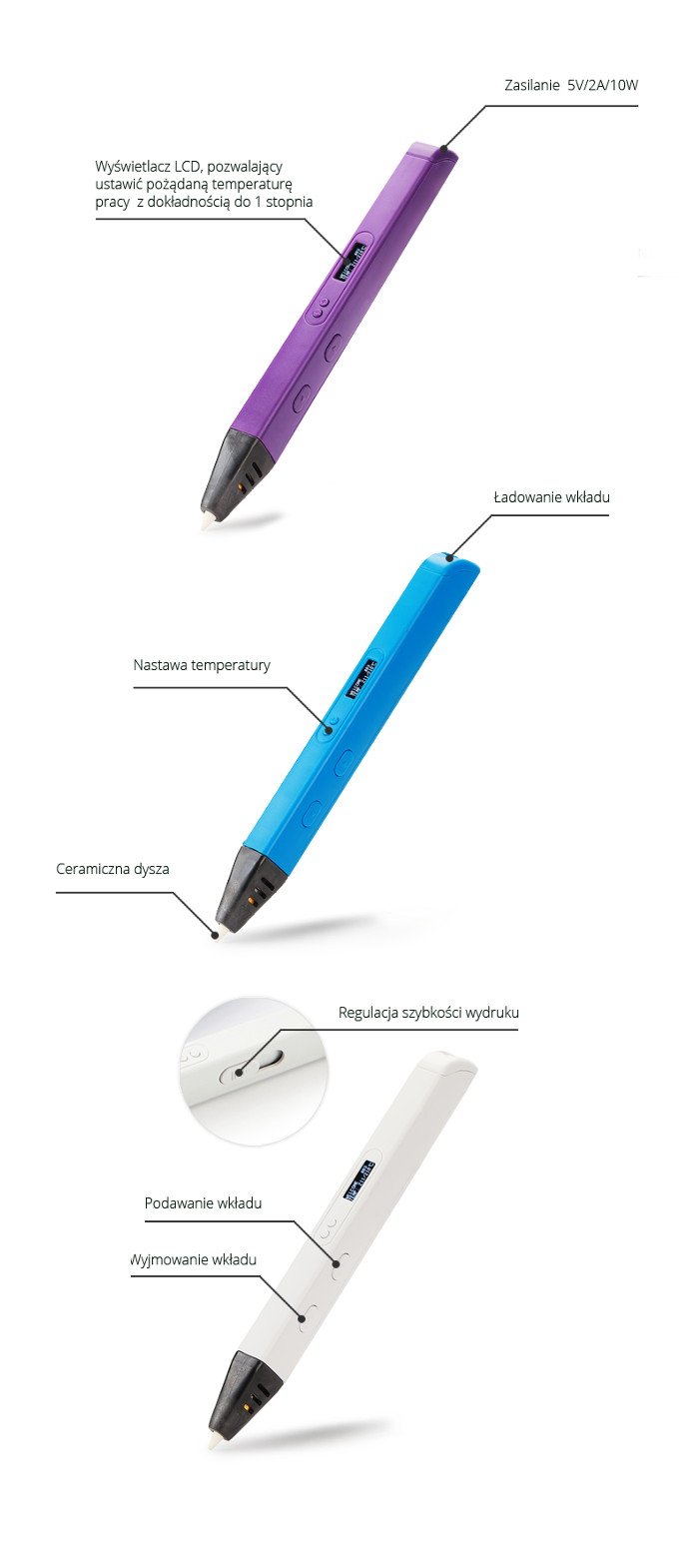 The pen uses a filament made of acrylonitrile-butadiene-styrene copolymer (ABS) to print. It is a popular material in 3D printing, more durable than PLA. It is easy to grind, you can drill holes in it.
Properties of ABS
Matt appearance
When printing, smell the melted plastic
More permanent than the PLA
It melts at quite a low temperature: from 180 °C to 220 °C. It is very important to choose the right temperature specified by the manufacturer
Easy to grind, you can easily drill holes in it
It's cheap and comes in many different colors
Specification
Power supply: DC 5 V / 2 A (power supply included, the device can also be powered from one of our powerbanks)
Built-in LCD screen for temperature control
Temperature control: 130°C to 240°C
Print speed control
Printing material: ABS
Diameter of the filament charging socket: 1.75 mm
Nozzle diameter: 0.6 mm
Pen dimensions: 175 x 17 x 20 mm
Weight: 40 g
The kit includes:
Wooler 3D printing pen
Plastic screwdriver for opening the rear housing
Three 3 meters filamente:

Yellow
Green
Brown (colors may vary)

Operating instructions in Polish
Additionalpennibs are also available in our offer.