Attention!
The product has been discontinued. Check others products incategory.
Description
Yuneec E-GO 2-is a durable and lightweight electric skateboard. Made fromcomposite wood, ensuring high durability and resistance to damage. The LiPol battery gives up to4h drive, which allows you to cover a distance of approx. 30 km. Maximum speed is20 km/h. It is controlled via the included wirelessbluetooth remote controlor via asmartphone app, thanks to which the skateboard drives smoothly, speeds up dynamically and stops safely. Skateboard is blue.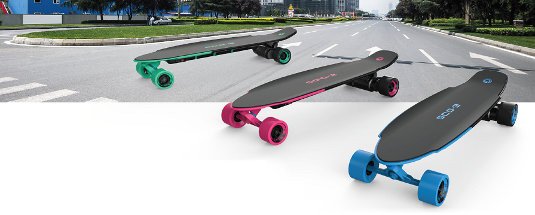 The device hasbrushless motors, which ensure long and reliable operation.
Speed, light weight and proportion
This skateboard is a new version of the E-GO board, it has a higher maximum speed of 20 km/h and specially prepared flexible li-pol battery that lasts for up to 4 hours of driving, covering a distance of 30 kilometers. The device was made from composite wood, which ensures high strength and low weight of only 6.3 kg. Well-designed proportions make the skateboard very stable and easy to transport.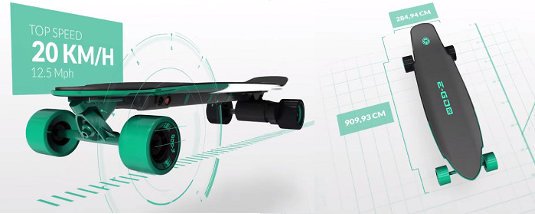 Wireless remote control
The included smart remote control communicates with the skateboard via Bluetooth. Convenient slider enables smooth and dynamic acceleration, as well as safe stopping. In addition, the remote has a choice of driving modes (basic and dynamic), which can be switched with just one button. The other additional modes are: Sport and ECO, which can also be quickly switched on the control panel.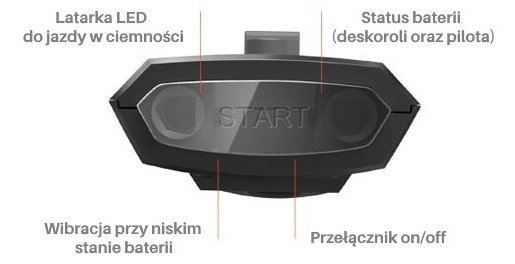 Smartphone control
Using a dedicated I-GO Yuneecapp (for iOS) you can control the skateboard with your smartphone or tablet. On the display, the app displays basic data such as speed, battery status, temperature of the system.
Specification
| Feature | Value |
| --- | --- |
| Range | 30 km |
| Capacity | 100 kg |
| Max. speed | 20 km/h |
| Charging time | 3-5 hours |
| Power | 400 |
| Weight | 6.3 kg |
| Wheel diameter | 90 mm |
| Dimensions | 91 x 24 cm |
| Motors type | burshless |
| Tire material | polyurethane |
| Board material | wood composite |
| Color | blue |
| Control | wireless remote control or Smartphone/Tablet |