Attention!
The product has been discontinued. Check other products in category.
Description
The device working as a WEB server which allows you to read sensor data and remote control of 6 outputs. It allows you to manage modules based on the fulfillment of certain conditions or temporarily. The output with PWM modulation allow you to set e.g. the brightness of the lighting. Board can be powered by an external power adapter or via PoE.
LAN V2.5 controller works as a simple home automation. It can monitor the status of the installation, measure the renewable energy supply or measure the power consumption for different devices. The device has various application depending on the customer's needs. 
Examples of application
Watchdog ISP for checking Ethernet and resetting devices
Temperature control in rooms
Remote control of lighting
Managing turning on and off using a wall switch or remotely
Monitoring the supply voltage and switching to the backup source
Remote control of distant devices
Measurement of the operation of solar panels, wind turbines etc.
Battery charging control
Measurement of power consumption by DC receivers
Monitoring and control of temperature and humidity in greenhouses
and many others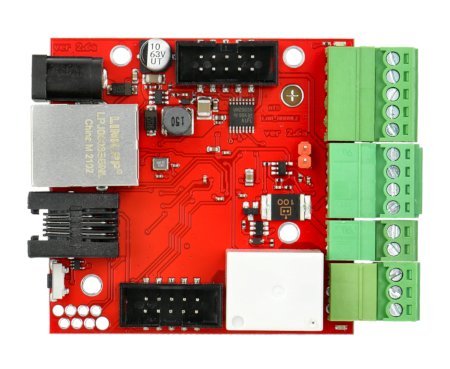 The imprint on the board ver 2.6a means only the version of the board. This does not affect the functionality of the controller. The LAN controller has version 2.5.
Specification
Supply voltage: 8V to 55V
Power consumption: 1W
Power supply:

External power supply
PoE (Power over Ethernet)

Interface: Ethernet 10 Mbit/sec
5 analog inputs
1 digital input 1-wire standard: 4 to 6 DS18B20 sensors
1 digital input for operation of the temperature and humidity sensor DHT22
4 logic inputs: position sensors and pulse transmitters
1 relay: NC, WELL and C
1 transistor output: control devices up to 1A
4 outputs for switching on transistors, relays, etc.
1 output PWM from 2,6 kHz to 4 MHz
Temperature measurement on the board
Reverse-polarity-protection
Relay: 255 V AC / 10A
Operating temperature: -20°C to 85°C
Dimensions: 68 x 66 x 48mm
Weight: 92g