Attention!
The product has been discontinued. Check others products incategory.
Description
The multimeter enables to measure DC and AC current, DC and AC current, resistance, capacitance and frequency. Temperature measurement range -40÷1000°C allows part of the probe. The continuity is indicated via an acoustic signal. The data hold function allows to save the result of the last measurement.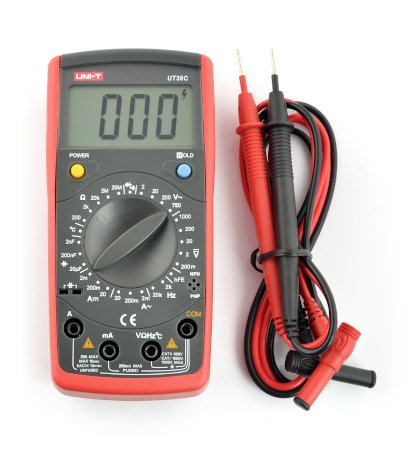 UNI-T UT39C with measuring probes.
The device has the ability to test transistors and the sleep mode (low power). The device is powered by a 9V battery, which is also included. The battery discharge is displayed on a digital indicator. All is enclosed in a sufficiently protected, original box.
Includes:
Test leads
Probe for temperature measurement
9V battery
Instruction: in English and Polish
Warranty: 24 months
Specification
| Option | Range |
| --- | --- |
| Dc voltage | 200 mV / 2 V / 20 V / 200 V / 1000 V |
| AC voltage | 2 V / 20 V / 200 V / 750 V |
| DC | 2 mA / 200 mA / 20 A |
| AC | 2 mA / 200 mA / 20 A |
| Resistance | 200 Ohm / 2 kOhm / 20 kOhm / 2 MOhm / 20 MOhm |
| Capacity | 2 NF / 200 NF / 20 UF |
| Inductance | not |
| Frequency | from 2 kHz to 20 kHz |
| Temperature | -40 °C to 1000 °C |
| Automatic range selection | not |
| Standby mode | yes |
| Warning sound | yes |
| Transistor tester | yes |
| Diode tester | yes |
| Battery tester | not |
| Function Data Hold | yes |
| Battery indicator | yes |
| Backlight | not |
| Display | LCD 1999 (61 x 32mm) |
| Dimensions | 172 x 83 x 38 mm |
| Power supply | 9 V battery (included) |
| Weight | 310 g |