Product description: CCS811 - Clean Air Sensor - eCO2 / TVOC - I2C - DFRobot SEN0339
Sensorproduced by DFRobot company, equipped withCCS811chip. Allows you to measure the concentration of particleseCO2and volatile organic compoundsTVOCthat are in theair. The measurement range for eCO2 isfrom 400 ppm to 8000 ppm, and for TVOCfrom 0 ppb to 1100 ppb. The module uses the I2C bus to communicate with the controller module. It isArduinocompatible, connected using the included 2.54mm raster goldpin connectors. It can be poweredfrom 3.3V to 5V.
Compatible with Arduino
On manufacturer website you can findproduct Wiki page, which contains detailed user guide andlibraryfor Arduino IDE environment and sample program code.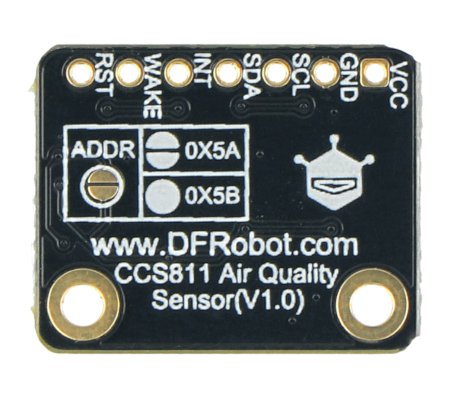 The module is equipped with CCS811 sensor allowing to measure eCO2 and TVOC dust concentration.
Description of CCS811 sensor pins
VCC- power supply pin from 3.3 V to 5 V DC.
GND- ground pin.
SCL- communication interface clock line pin.
SDA- communication interface data line pin.
INT- external interrupt pin (activated by low state).
WAKE- toggle pin; low state - wake up / high state - sleep.
RST- RESET pin (activated by low state).
Suggested application
Indoor air quality measurement
Air measurement in a car
Element of air purification projects
Used in ventilation systems
Smart home
Contents of the kit
Air purity sensor CCS811
Goldpin connectors - 2.54 mm pitch
Technical specifications of the sensor from DFRobot
Chip: CCS811
Supply voltage: 3.3 V to 5 V DC
Measuring range for eCO2: 400 ppm to 8000 ppm
Measuring range for TVOC: 0 ppb to 1100 ppb
Warm-up time: up to 15 s
Communication interface: I2C
Interface address:
Operating temperature range: from -40°C to 85°C
Operating humidity range: 10% RH to 95% RH
Integrated MCU controller
Optimized low current modes
Leads: 2.54mm goldpin connectors (included in the supply)
Dimensions: 16 x 20 mm