Product description: MKR IoT Carrier Board - IoT development board for Arduino MKR - Arduino ABX00047
Expansion board forArduinoMKRseries modules giving endless possibilities inIoTprojects without soldering. The board features anOLED display, touch buttons,Groveconnectors, temperature and humidity, IMU, light, gesture and distance sensors, as well as a buzzer, relay connectors,microSD cardslot, RGB LED and aLi-Ionbattery clip. Data read from the sensors can be displayed on the display and uploaded to theArduino IoT Cloud. The kit does not include the Arduino MKR board, Li-Ion battery, microSD card or microUSB cable, these items must be purchased separately.
Main features of MKR IoT Carrier Board
Weather sensors- temperature, humidity, pressure, light intensity and RGB color.
Motion sensors- 6-axis IMU sensor, gesture sensor and distance sensor.
Connectors for external sensors- Grove type connectors: 2x analog + 1x I2C, which allow you to easily connect additional components to the board.
Data storage- microSD memory card slot (not included).
Color OLED display- a round, color screen supporting graphic design.
5 RGB LEDs- to be used by the user.
Buzzer- a small speaker that emits various types of sounds.
Relays- 2 relays for user's disposal.
5 buttons- touch sensitive buttons to create a simple user interface.
Battery socket- can be powered from a single 18650 Li-Ion cell (not included)
Specification for MKR Arduino board
Interface:

color display
touch sensitive buttons
RGB LEDs
buzzer

Sensors and actuators

relays
built-in sensors
Grove connectors

Compatible with all Arduino boards from MKR series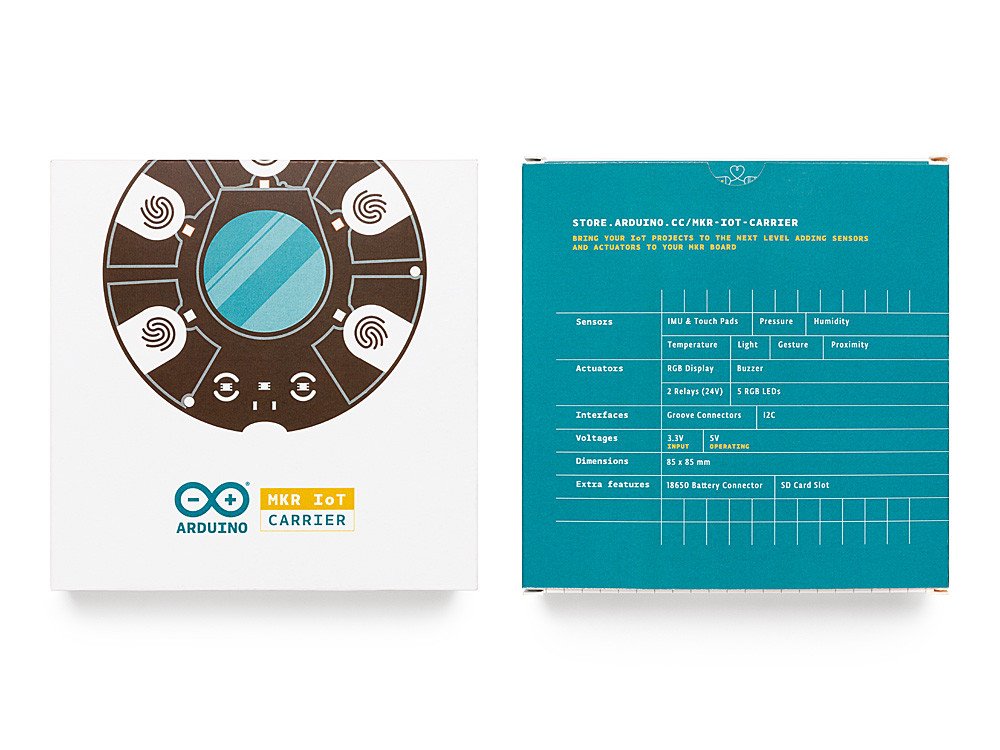 MKR IoT Carrier Board.