Product Description: Tracer Memo Digital Notepad
Tracer's Memo Digital Notepad is a device for quicktaking notesanddrawing. It is powered bya CR2020 battery(included in the package). Thanks to it you can forget about paper notes with shopping lists, things to do. You can quickly and easily make an important note or leave a message for your loved ones. It can also serve your child while learning. Solving even mathematical tasks will be great fun for your child.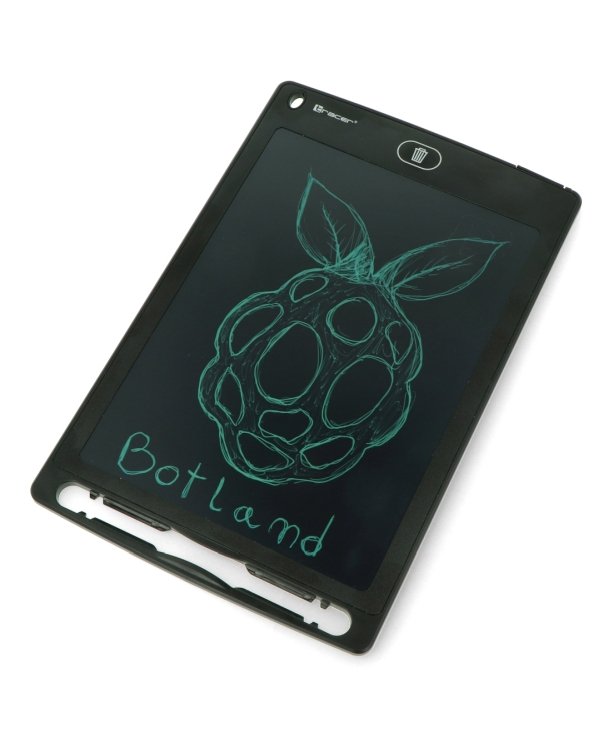 The 8.5-inch Tracer Memo digital notebook.
Use it wherever you want!
The notebook is verylightandthinand looks likea tablet. You can have it with you literally anywhere. It has an8.5-inchLCDscreen where you can write and draw with the included stylus. When a note is no longer needed, just press the cleaning button (basket). The device does not consume much power. It's also great for a long journey.

Tracer Memo Digital Notepad.
The modern bulletin board in your home
Easily attach the Tracer Memo notebook to the refrigerator, thanks to the twomagnets on the back. You will be able to make a quick shopping list, leave messages for your loved ones. You will save a lot of paper with this gadget!
Notepad features
Handy, lightweight
Mobile
Easy to hang
Environmentally friendly
A great solution for pupils, students
Digital Notebook specification
Colour: black
Display: LCD, 8.5 inches
Power supply:CR2020battery (supplied)
Includes a stylus for writing / drawing
On the back of the notebook there are attached magnets for easy attachment, e.g. to a refrigerator
Dimensions: 227 x 145 x 5 mm
Weight: 115 g