Product description: MEMS Analog Microphone - ICS-40180 - SparkFun BOB-18011
InvenSense ICS-40180 analog MEMSmicrophone module created by SparkFu. Easy connection and simplicity allows to use it in all kinds of sound detecting projects. The board is equipped withOpAmp, so it is possible to connect it directly to ADC of a microcontroller, such as Arduino module. The microphone performs well in capturing sounds from all directions. The signal to noise ratio of the microphone is65 dBA. The output impedance is600 Ω. The module is poweredfrom 1.5 V to 3.6 V DC. The module is ideal for mobile projects due to its very low power consumption.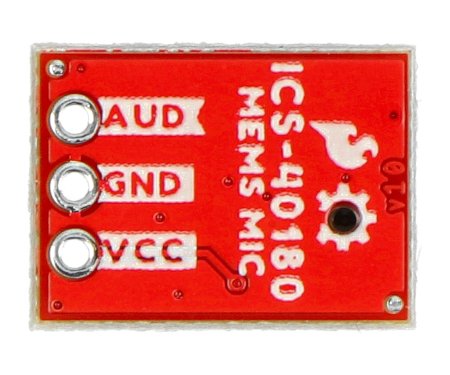 MEMS analog microphone.
How to connect the microphone?
To connect the MEMS analog microphone, use the analog interface of a microcontroller such as Arduino. The module is powered by 1.5 V to 3.6 V. On the board there are connectors such as:
AUD- analog output.
GND- system ground.
3.3V- supply voltage from 1.5 V to 3.6 V.
The manufacturer has prepared a detaileduser guide.
MEMS microphone specification
Chip: InvenSense ICS-40180
Supply voltage: 1.5 V to 3.6 V
Signal-to-noise ratio (SNR): 65 dbA
Sensitivity: approx. -38 dBV
Flat frequency response: 60 Hz to 20 kHz
Current consumption: up to 260 μA at 3.3 V
Maximum acoustic input: 124 dB
Output impedance: 600 Ω
Lead Raster: 2.54 mm
Dimensions: 14 x 10 mm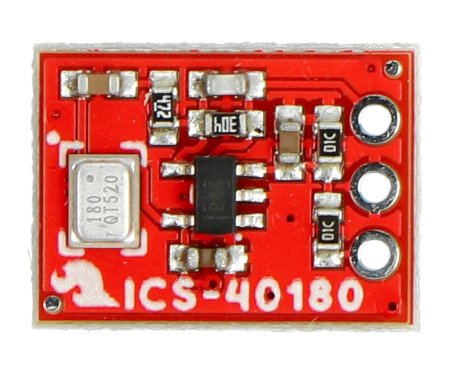 MEMS analog microphone ICS-40180.