Product Description: M5Stick ENV II - Temperature, Humidity and Air Pressure Sensor - SHT30 and BMP280 - for M5Stick module
Overlay for modulesM5StickCandM5StickC Pluscombines two sensors -SHT30andBMP280, which allow the measurement of environmental parameters. These include the measurement of temperature, humidity and pressure. The overlay uses aGPIOconnector to connect to the module, which is compatible with theStickseries of development modules from M5Stack. The overlay usesI2Cbus for communication. ENV II combines high precision sensors with an extremely simple and fast connection method. The modulecan be programmed usingMicroPython language,UIFlowgraphical environment and Arduino IDE environment.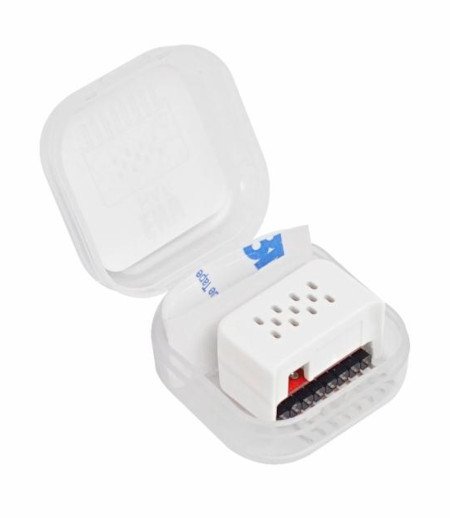 The cap is placed in small, plastic container, which makes it easy to store and transport, when it's not plugged into main module.
Sensors in the cap
SHT30- digital sensor of temperature and humidity, which is distinguished by high precision measurement and low energy consumption. The maximum temperature measurement range is between -40°C and 120°C, the accuracy of these measurements is

±0.2°C (for temperatures between 0°C and 60°C)

. For humidity measurements, the range is between 10% RH and 90% RH, with an accuracy of

±2%

.
BMP280- A precision barometric pressure sensor designed for mobile applications. The measurement range of the atmospheric pressure sensor is 300 to 1100 hPa, and its accuracy is

± 1 hPa.
Technical specification of the cap
Operating temperature range: 0°C to 40°C

Communication interface: I2C

I2C interface address:

SHT30 chip: 0x44

BMP280 chip: 0x76

Sensor housing material: plastic (PC)

Dimensions: 15 x 24 x 14 mm

Weight: 4 g
Contents of the set
M5Stick ENV II - temperature, humidity and air pressure sensor
Double-sided mounting tape adapted to the dimensions of the element