Attention!
The product has been discontinued. Check other products in category.
Description
The e-paper display with a diagonal of 5,83" in E-Ink technology with a resolution of 600 x 448 px. Works with a voltage from 3.3 V to 5 V. Communicates through the SPI interface. Display supports 3 colors: black, white and yellow. This kind of displays can be used for reading e-books and e-journals. The set has HAT shield for Raspberry Pi.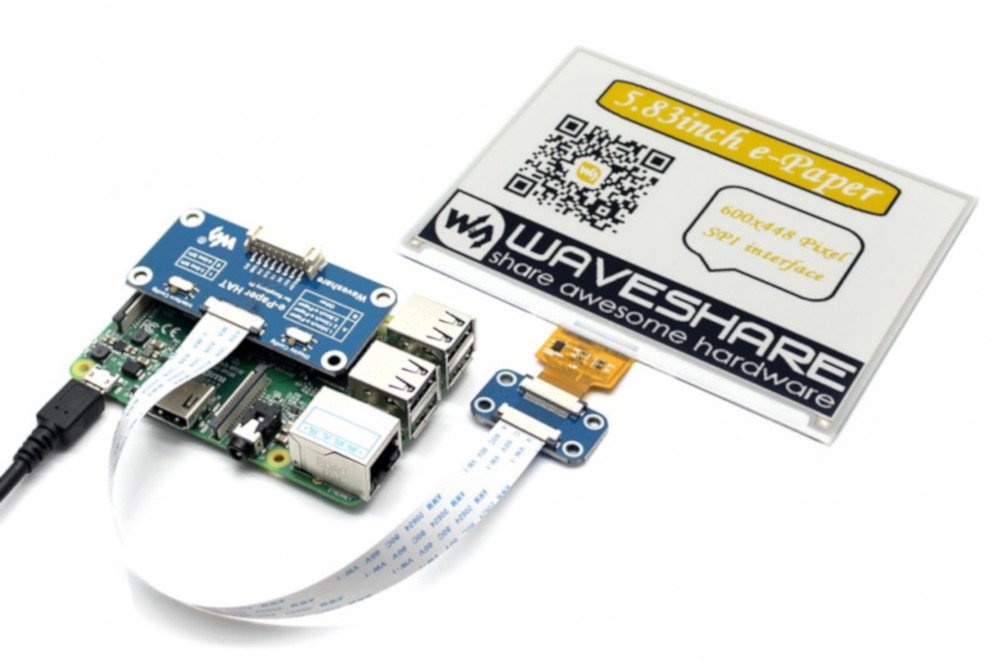 The sale includes display with HAT shield, minicomputer Rasberry Pi must be purchased separately.
Pins
The basic module has 8-pin connector.
Pin
Description
VCC
Supply voltage: from 3.3 V to 5 V.
GND
The mass of the system.
DIN
Pin MOSI of SPI interface.
CLK

Clock pin of the SPI interface.

CS

Chip select is activated by low status.

DC

Selection data / commands.

High status - data

Low status - commands

RST

External reset is activated by low stat

us

.

BUSY

"Busy" s

tatus' output, activated by the low stat

us

.
Specification
Supply voltage: 3.3 V and 5 V
Power: 26,4 MW
Interface: SPI
External dimensions: 125.4 x 99.5 mm
Display's dimensions: 118,8 x 88,26 mm
Pixel: 0.197 x 0,198 mm
Resolution: 600 x 448 px
The gray level: 2
Full time of update: 26 s
Displayed colors: black, white and yellow
Viewing angle: 170 °