Attention!
The product has been discontinued. Check others products incategory.
Description
Shield of Hat type for Raspberry Pi, version 3B+ / 3B / 2B with RCA connectors. It is used in device of high quality, system DAC is based on the ESS SABRE 9038 chipset, working in master mode, provides the highest-quality sound. The device is characterized by a very small deviation of the jitter - 390 fs. The set contains the Opamp board in versionSound Quality (SQ).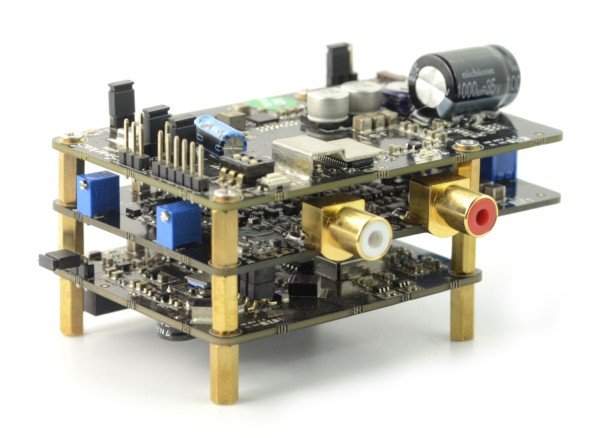 What distinguishes the Katana DAC?
Katana DAC consists of three boards layered on Raspberry Pi:
Katana Board: contains the ESS9038 DAC system and oscillators NDK with extremely low frequency for MCLK
Katana Opamp Board: represents analog output phase, on which all the discrete circuits of the OP-amp are converted into analogue channels, left and right (XLR balanced and RCA unbalanced

SQ: 100,5 Thd + n balanced 1kHz - board is optimalized in terms of quality of sound. Sparing few numbers to thd+n, the module has the sound similar to analog.
THD: 112.9 Thd + n balanced 1kHz - module does not make interrupts in music. It sounds very good (to buy in other version)
The difference between SQ and THD depends on the system and own preferences. Both versions have very good sound

Katana Micro-Controller Board: controls the functionality of the DAC with the downloaded firmware. The microcontroller receives configuration parameters for the DAC to the Raspberry via the I2C interface. It can also transmit a voltage via the integrated DC-DC converter to Opamp board.
Specification
Power supply: 5 V / 3 A, through USB-C connector (powering together with Raspberry) - other forms of power are available inthe user guide
Dedicated 384kHz/32bit ESS SABRE 9038 DAC chip
Support of DSD 64, DSD 128 and FLAC files via DoP
2 RCA outputs
2 places for soldering the outputs XLR
DAC THD+N (1 kHz, 0 dBfs), at -112.75
Sampling frequency from 44.1 kHz to 384 kHz
Useful links
Basic configuration of power