Attention!
The sale of the product has been completed. Check others in thiscategory.
The kit includes:
Two silicone belts
Two drive wheels suitable for 3mm type D shaft
Two wheels working loose
Two bolts, nuts and washers for fixing the wheels
We also offer a 30T versionwitha larger belt track.
Description
The total length of the complex 22T version is less than 90mm, allowing the crawler tracks to be used in minisumo robots.The drive wheels are designed to fit directly onto the micro engine shafts of Polol (e.g.Polol HP 30:1 ).The manufacturer recommends the use ofextendedmounting brackets for engine installation.
The kit also includes washer bolts and nuts, which allow for easy assembly of the system.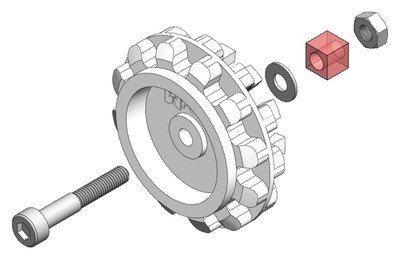 Dimensions:
Outer diameter of the wheel: 35mm.
Diameter with crawler belt fitted: 39mm.
Belt width: 14.6mm.