Attention!
The product has been discontinued. Check other products in category.
Product description: Grove Base Kit for Raspberry Pi 4B/3B+/3B - Beginner Kit EN
Grove Base Kit for beginners - IntroducingIoT - Internet of ThingsforRaspberry Piminicomputers. The kit includes aGrove Base Hatfor Raspberry Pi mini-computer and 10 modules and sensors with Grove interface. Thesetincludesinstructions in Polish,availableonlinewith sample programs.
Attention!
The set does not includeRaspberry Pi. If you do not have this board yet, you can purchase it using the "Suggested accessories" above the product description.
Presentation of Grove Base Kit elements, preparation for work and tutorial.
Grove is a system for quick and easy prototypingwithout the need to solderindividual elements or usethe contact plate. The assembly method resemblesLEGO blocks. Compared with traditional methods of assembling electronics, Grove makes this process much easier and faster. This isanother Grove set available in Polish, which allows you to experiment with new projects withinstructions in Polish.
Grove Base Kit for Raspberry Pi.
Main features of the Grove Base Kit
Compatibility with Raspberry Pi
Instructions in Polish
Expandable - check out the othersensors in the series
Handy organizer
Numerous examples and guides
Ideal for a gift
No soldering required
The main advantage of the Grove system isthe unification of connectors.In practice, this means that if the number of modules in a set is insufficient, it is possible to choosefrom a wide range of Grove, any other sensor and connect it to the base plate usingdedicated Grove cables.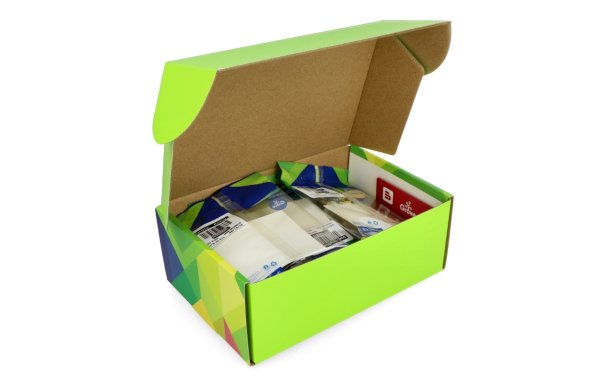 The contents of the set have been enclosed in a small cardboard box.
Grove Base Kit elements
L.p.
Photo
Description
1.

Raspberry Pi overlay for connecting each module. It has GPIO outputs identical to RPi, PWM, UART connector, 3 I2C outputs, 6 digital and 4 analog outputs. It is also equipped with contacts for SWD.

2.

Module with active buzzer from Grove series.It emits a steady tone when given high. When using the PWM it can generate different sounds and effects. Powered by 4 V to 8 V.

3.

Grove Push Button with backlight

The Grove series module is equipped with a button with a red LED.Powered by 3.3 V to 5 V.

4.

Grove ambient light intensity sensor

The Grove series module is equipped with the LM358.The sensor detects the light intensity and reflects the analog voltage signal back to the Raspberry. The light range is between 1 lux and 350 lux. The supply voltage is 5 V.The sensor communicates via an analogue signal.

5.

A sensor used to determine the soil moisture level. It is powered from 3.3 V to 5 V. The output is an analogue voltage, which increases in value as the humidity increases. The module has mounting holes for 2 mm screws and a soldered in Grove socket.

6.

PIR type motion detector with Grove series compatible interface. The detection of an object is signalled digitally by a high state on the SIG pin. The range of the sensor is 2 m. The module has no soldered-in potentiometer.

7.

Analogue Servo Grove

Microservo. Powered by voltage from the range: 4.8 V - 6 V. Speed: 0.12 s/60°. Moment: 1.8 kg*cm.

8.

Grove temperature and humidity sensor

Air temperature and humidity sensor DHT11 from Grove series.The output is a digital signal.The measuring range for temperature is from 0°Cup to 50°C and a humidity of 20 to 90 % RH.

9.

Relay module with Grove socket in version 1.2. It allows to control actuators by cutting or supplying power. For proper operation it requires a 5 V power supply and a digital control signal supply.

10.

Grove - ultrasonic distance sensor 3-350cm

Ultrasonic sensor operating in the range from 3 cm to 350 cm. Powered by 5 V. The output is a signal whose duration is proportional to the measured distance.

11.

LCD display module to show 2 rows of 16 characters each. Uses I2C interface for communication.
Each element is separately packaged and has a Grove cable to connect the module to the Grove Base Hat.