Attention!
The product has been discontinued. Check other products in category.
Product description: M5Stack UnitV2 M12 - AI recognition module - camera version - M5Stack
M5StackUnitV2 is an AI recognition module equipped with powerful components. Manufactured by M5Stack, it features the Sigmstar SSD202D - an integrated dual-core Cortex-A7 1.2 GHz processor, 128 MB-DDR3 RAM, 512 MB NAND Flash memory and a 1080P camera. Also included are two lenses - one with an 85° FOV and a Wide-Angle Fisheye FOV of 150°.
A detailed user guide is available on the manufacturer's website. It contains essential information and instructions to help you get started with the M5Stack UnitV2 M12.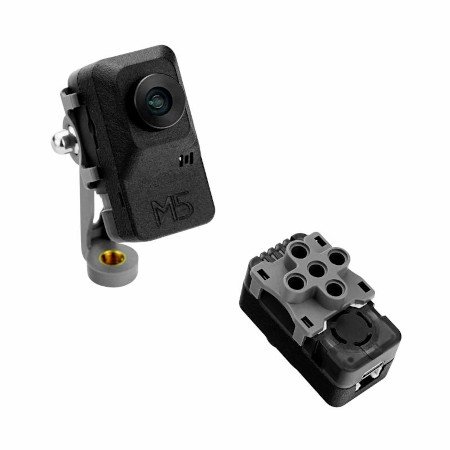 Specially designed mounting elements allow you to conveniently fix the module in a dedicated location.
Special features of M5Stack UnitV2 M12
Equipped with dual-core Cortex-A7 1.2 GHz processor
Comes with two lenses - a standard lens with an 85° viewing angle and a Wide-Angle Fisheye lens with an FOV of 150°
Includes a built-in microphone
Supports 2.4 GHz WiFi wireless communication
Equipped with 12 AI image recognition functions - QR code, face detection, line tracking, motion, shape matching, image streaming, classification, color tracking, face recognition, target tracking, shape detection, custom object recognition
Possibility of online preview on the Internet, UIFlow (used as serial port json format)
Linux system (OpenCV, SSH, JupyterNotebook)
It is used in applications of learning and machine vision, object classification and visual recognition, and wide-ranging applications with AI recognition functions
Technical specification of M5Stack UnitV2 M12
Type: AI recognition module
Embedded chip: Sigmstar SSD202D
Processor: dual-core Cortex-A7 1.2 GHz
Flash Memory: 512 MB NAND
RAM: 128 MB-DDR3
Camera: GC2053 1080P
Lens:

1x standard lens with 85° FOV
1x Wide-Angle Fisheye lens with 150° FOV

Input voltage: 5 V / 500 mA
Peripherals: 1x USB type C, 1x UART, 1x TF memory card slot, 1x utility button, 1x built-in microphone, 1x built-in cooling fan
Operating status indication: LED (red and white)
Wireless communication: WiFi
WiFi standard: 150M bps 2.4 GHz 802.11b/g/n
Ethernet: SR9900
Contents of the kit
M5Stack UnitV2 M12 module
16G TF memory card
USB Type C cable 50 cm long
Mounting hardware: rear clip and bracket
Standard lens with 85° FOV
Wide-Angle Fisheye lens with FOV of 150°