Attention!
The product has been discontinued. Check other products in category.
Specification
Microcontroller STM32L100RCT6:

Core: Cortex M-3
Clock Frequency Of 32 MHz
256 KB Flash
16 KB of RAM
Case LQFP64

The debugger ST-Link/V2 is placed on the Board with the possibility to work as a standalone device with the release of SWD
The system is running on USB or external power supply: 5V/3.3 V
On the board there are also:

Four LEDs
(two available for theuser)
Two buttons (user's and reset)
Inputs goldpin for I/O ports
A detailed description can be found in thedocumentationor onthe manufacturer's website.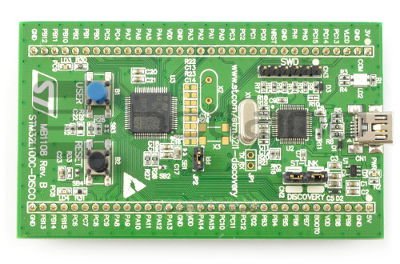 Description
The module allows you to implement projects based on the popular 32-bit microcontroller STM32. The board also contains additional elements: LEDs, buttons and 3-axis gyroscope. Creating a software is facilitated by libraries and many examples available on the website of the company ST.