Description: Mini Buggy - mechanical model kit - veneer - 80 pieces - Ugearsmodels 70142
The kit consists of80 piecesfor self-assembly, which after assembling form a vehicle mini Buggy. The model has been worked out in the smallest detail, and the precision achieved by cutting individual parts withlaser method. The mini buggy hasan open-work constructionwhich allows the user to observe the movement of the gears inside the vehicle. The model does not contain electronic components, and mobility owes to the rubber band, which sets in motion its key parts. The package containsveneer(plywood) sheets, from which you only need to squeeze out thefinished partsand then join them together following the illustrated instructions included in the kit. Noglueor additionalassemblyparts are needed to assemble the model. Assembly is very simple and takesabout one hour.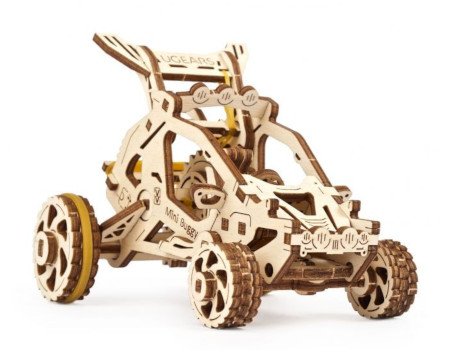 The design of the mini buggy has been developed in such a way that the user can see the movement of the engine gears.
Technical specification of the kit
Model: mini buggy
Type: mechanical model
Toy model kit for self-assembly without glue.
Precisely cut out elements using laser method
Elements can be set in motion with a rubber band
Language of instruction: UKR, ENG, DEU, FRA, POL, SPA, ITA, RUS, JAP, KOR, CHI
Material of the elements: veneer (plywood)
Number of elements: 80 pieces.
Assembly time: about one hour
Model dimensions: 105 x 88 x 88 mm
In our offer you will also find other proposals of mechanical models fromUgearsmodels.