Product description: Qwiic Fuel Gauge - MAX17048 - battery charge meter - SparkFun SPX-17715
Based on theMAX17048chip, this module is from SparkFun'sSparkXseries of experimental products. Qwiic Fuel Gauge is ideal for monitoring the charge level of single purposeLi-Pol packs. The device measures the voltage ofa Li-Pol batterypack using the MAX17048 chip and converts the voltage value into a percentage of battery capacity, making it much easier to identify the battery's charge level. The MAX17048 chip hasan algorithmthat continuously monitors the Li-Pol pack, providing greater measurement accuracy than a simple ADC. The board communicates with the main module using the I2C interface. It is equipped with twoQwiicconnectors, which can be used to easily connect it to a module equipped with the same connectors. Li-Pol battery is connected to JST connector with 2 mm pitch.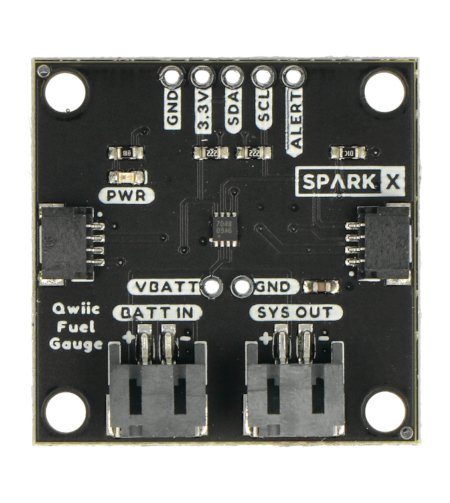 Battery charge meter module based on MAX17048 chip.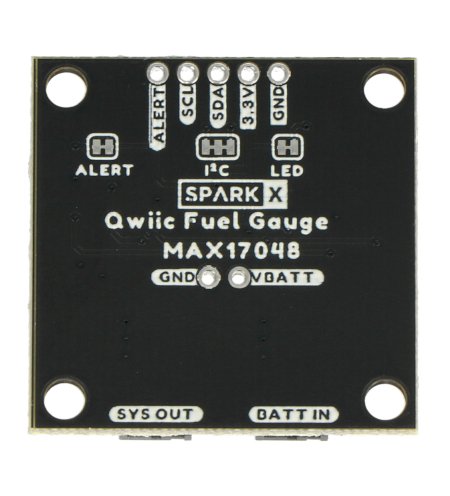 SparkX module with battery charge meter chip - MAX17048.
SparkFun Qwiic connection system
TheSparkFun Qwiic ecosystem for simple and fast connection ofsensors, actuators, overlays and I2C cables is low error prone. Modules equipped with the Qwiic connector feature a4-pinJSTconnectorwith a1 mmpitch. Thanks to this solution, the connector does not take up much space on the board and makes it impossible to connect the plug in the reverse way, minimizing the risk of error when connecting the wires.
MAX17048 module specifications
Operating voltage: 3,3 V
Supported Batteries: Li-Pol 1S
Communication interface: I2C
Connectors:

battery: JST 2 mm
communication: Qwiic, holes with leads

Chip: MAX17048
4 mounting holes