Product description: Creality 42-60 stepper motor
Stepper motordesigned forCreality3D printers. The device is an original part that is used by the manufacturer Creality. Made of solid materials, it providesstable operationwith low noise. It has auniform speedduring the performed work withhigh precision ofeach step. Themotorfrom Creality is also characterized bylow power consumption. Its specially designed construction makes the element efficientlydissipate the heat it generates. The motor is compatible with CR-5 and Ender-6 series 3D printers manufactured by Creality. The dimensions of the element are equal to42 x 42 x 60 mmand the shaft height is20 mm.
In our offer you will also find other original components for 3D printers fromCreality! Feel free to browse the Botalnd assortment!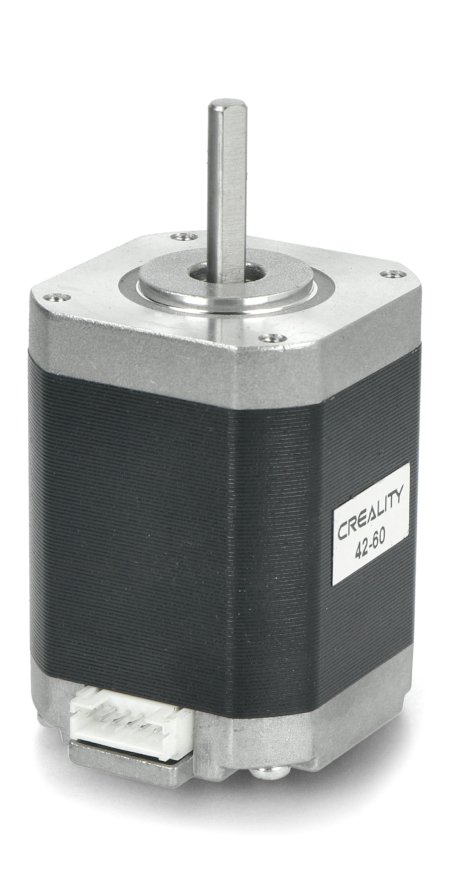 Creality 42-60 stepper motor produced by one of the most popular manufacturers of 3D printers.
Technical specification of the motor42-60
Original replacement part used by 3D printer manufacturer - Creality
Manufacturer designation: 42-60
Component type: 3D printer motor
Motor type: stepper motor
Compatible 3D printers: T5, K5, DP-002, CR-4026, CR-4040, CR-3040, CR-5S, CR-5, CR-10 S5, CR-10 S4, CR-5 Pro
Nominal voltage: 4,83 V
Nominal current: 1.5 A
Resolution: 200 steps/revolution (1.8°)
Mounting Standard: NEMA 17
Motor dimensions: 42 x 42 x 60 mm (without shaft)
Shaft height: 20 mm
Shaft diameter: 5 mm
Weight: 470 g
How does the stepper motor work?
If you're not sure howastepper motor works - check out ourblog! In the article, our specialists discuss the most popular issues, such as stepper motorcharacteristics, motorconstructionorprinciple ofoperation. It explains how a stepper motor's shaft rotates and details advantages and disadvantages of stepper motors in practice.