Product description: THT CF carbon 1/4 W 1,5 Ω resistor - 30 pcs.
Set of 30 resistors of 0,25 W. The resistors are designed for THT through-hole mounting.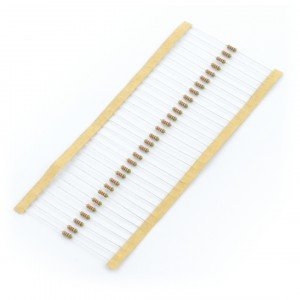 THT CF carbon 1/4 W 1,5 Ω resistor - 30 pcs.
THT resistor specifications
Resistor type: carbon
Resistance: 1.5 Ω
Power rating: 1/4 W
Tolerance: 5%
Mounting: THT through hole
Elements sold in packs of 30 pcs.
THT carbon resistors for electronic devices
Nowadays, almost every electronic device contains at least one resistor. Depending on how they are connected to other elements, resistors can have different functions.
In the case of LEDs, they act as a simple limitation of the current flowing through the glowing LED. In microcontrollers, connecting resistors to I/O and ground or supply voltage prevents an unwanted high impedance condition from occurring on the microcontroller pins.
Resistors - Ohm's Law in practice
A resistor is an electronic component on which Ohm's Law can be demonstrated in practice. If we connect a resistor with a resistance of 1.5Ω to a voltage source of 0.5V, a current of approximately 333mA will flow through the resistor according to Ohm's law. The thermal power dissipated by the resistor will be about 0.17W.
Remember not to connect the resistor at too high a voltage, as it may burn out - the offered resistors are designed for a maximum power of 0,25W.