Attention!
The product has been discontinued. Check other products in category.
Description
Cap for Arduino with SIM808 system which allows you to send text messages, create links in a GSM network, GPRS data transfer and reading of GPS position. Communication via serial interface UART (RX, TX) using AT commands. Tile has i.a.: a connector for SIM-card, MIC, speaker and microUSB connector. The kit also includes aGPS antenna, a power adapter 12 V / 1 A and the microUSB cable.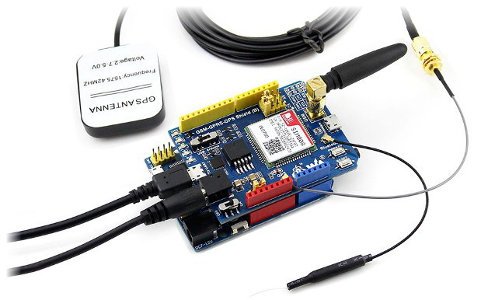 The set includes: GSM/GPRS/GPS Shield, GPS antenna, GSM and Bluetooth, AC adapter and microUSB cable.
Connection
The system works with the platesArduino, for example, a version of Uno. Built-in converter USB - UART, it allows for a direct connection to the computer using the AT commands using the suppliedmicroUSB cableand terminal of serial port.
What is on Board?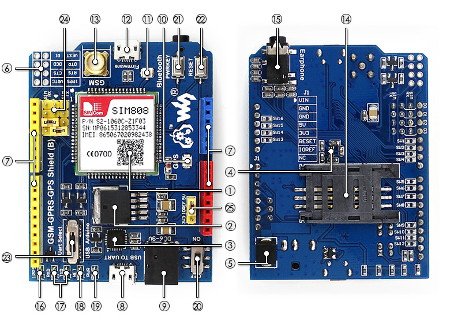 Module SIM808
System MIC29302
The chip CP2102: converter USB to UART
SMF05C: diode TVS
Rectifier diode 1N5408
Functional pins of system SIM808
Leads of Arduino
USB-UART interface
Connector of DC power
GPS ntenna connector 
Bluetooth antenna connector 
Interface of firmware update
Antenna connector GSM
The SIM card slot 
Connector Jack 3.5 mm headphone / MIC
The GPS indicator diode
The UART transmission signal diode
The diode indicating a connection to a GSM network
Quick blinking: after starting
Slow blinking: established connection
The power indicator diode
Switch
Control button module SIM808: hold for 1 sec. enables / disables the module
The Reset Button
The choice of control UART
Via pins of the UART interface of Arduino
Configuration of UART SIM808
SIM_TX: SIM808 UART TX
SIM_RX: SIM808 UART RX
Setting the voltage level of UART interface
Specification
Supply voltage: 6 V to 12 V
UART communication
Support AT command
Built-in Converter USB to UART CP2102 with output micro usb slot (cable included in the package)
The GSM SIM808 system 

Supported bands: 850 / 900 / 1800 / 1900 MHz
GPRS of class 1 to 12: speed up to 85.6 kbp/s
SIM slot for card, 1.8 V / 3 V

66 channel GPS

Sensitivity: -165 dBm
Cold start: 30 s
Hot start: 1 sec.
Accuracy: up to 2,5 m

Built-in microphone and speaker
Removing echo and noise reduction
Built-in Bluetooth 3.0 and RTC clock
Operating temperature: -40 to 85 °C
Cap works with the plates Arduino, e.g. Arduino Uno and Nukleo
Module dimensions: 66 x 53 mm
Set includes
GSM/GPRS/GPS Shield
GPS antenna
GSM antenna
Bluetooth antenna
The speaker enclosure
Power Supply 12 V, 1 A
The microUSB - USB cable