Description
A sensor that recognizes the concentration of carbon monoxide (CO) in the air. Powered by two AA batteries. Used for warning with an audio signal before harmful CO leaks. The sensor has an LCD display showing the CO concentration in the range from 0 to 999 PPM. It has a Test / Reset button, which allows you to check the correct operation of the device and deactivate the alarm. It also has a button that, when pressed, displays the highest detected CO level recorded in the memory of the sensor. After 10 years from the date of activation, the sensor will report the necessity of replacing the device.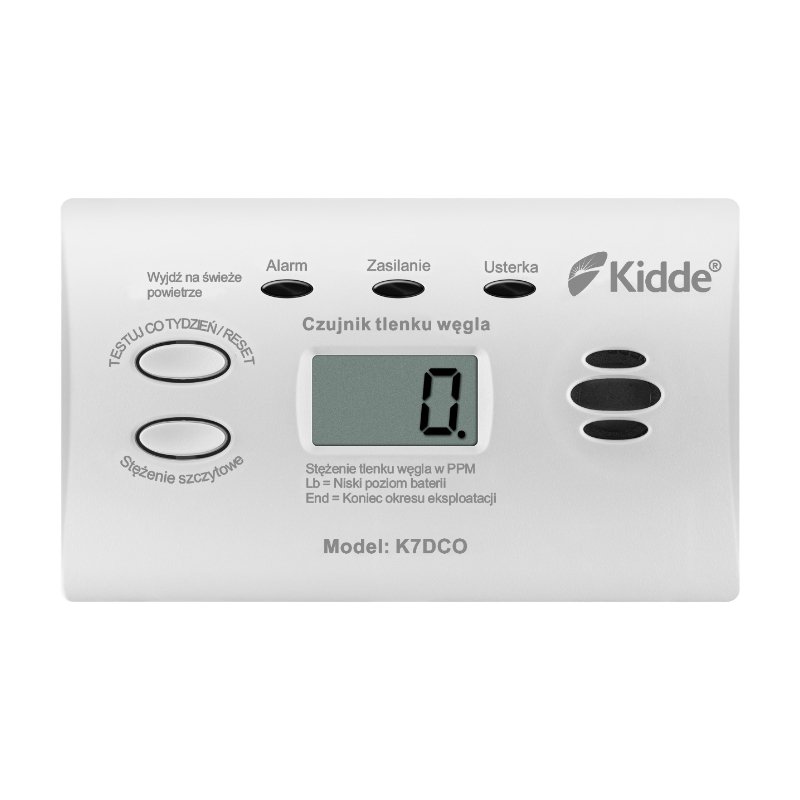 In case of faulty operation or low battery level in the LCD panel displays the respective information graphically and turns on an audible alarm.
The sensor complies with the Polish standard PN-EN 50291-1:2018+AC:2021 for home carbon monoxide detectors and standard PN-EN 50291-2:2020 for use in vehicles, trailers and boats.
Attention!
Before connecting, refer to the kit instructions.
Specification
Sensor: electrochemical CO sensor KIDDE company
Power: 2x battery AA 1.5 V (included)
Operating temperature:

-10 °C to + 45 °C

Storage temperature:

 from -20 °C to + 60 °C

Humidity: up to 90 %

Alarm of exceeded permissible concentration: 85 dB acoustically and optically (red LED)

Alarm low battery charge level: message Lb on the LCD display, audible signal, LED

Failure alarm: message Err on the LCD display, audible signal, LED

Alarm expiration: message END, an audible signal, LED

Buttons: test / reset, peak concentrations

The activation time of the alarm:

30 PPM no alarm before the expiration of 120 minutes
50 PPM, alarms within 60-90 minutes
100ppm, alarms within 10-40 minutes
300 PPM, alarms within 3 minutes

Dimensions: 118 x 70 x 40 mm
Mounting method: on wall or standing

 (mounting screws included)
Finds application in:
domestic boiler rooms with C.O. stoves burning solid fuels and flammable gas,
kitchens, bathrooms, equipped with gas appliances,
garages with the LPG installation,
school physics and chemistry laboratories,
public areas.