Product description: Voltcraft PM-45 measuring adapter
This adapter allows you tomeasure voltage and current ofthe device connected to theUSB port. For proper operation it requires the use ofa universaldigital or analogmeterwhich will display the measured parameters. The Voltcraft PM-45 can be used with receivers with voltage of 5 V DC (maximum 10 V DC) and current flow up to 2.4 A. Unlike simple USB voltage indicators, the product enables connection of a professional meter with much higher accuracy. The adapter has a built-in USB type A socket and a USB type A plug on the cable. On the casing there are four sockets for connecting the measurement cables included in the set.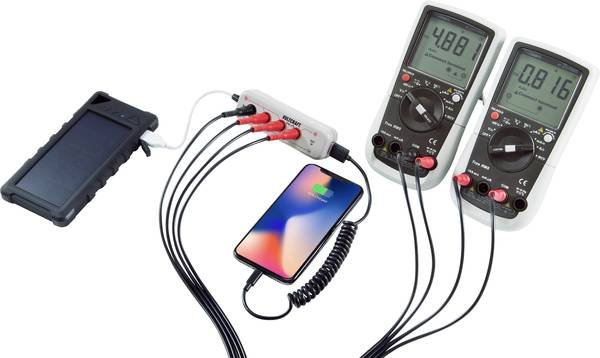 Application of the adapter.Metersto be purchased separately.
Voltcraft PM-45 measurement adapter specification
Compatible meters: Benning, Beha Amprobe, Chauvin Arnoux, FLIR, Fluke, Gossen Metrawatt, Megger, Metrel, Voltcraft
DC supply voltage: 5 V (maximum 10 V)
Current: up to 2.4 A
Work environment temperature: from -10°C to 50°C
Storage temperature: from -10°C to 50°C
USB cable length: 160 mm
Dimensions: 114 x 35 x 26 mm
Weight: 52 g
Contents of the set
Voltcraft PM-45 measuring adapter
Measuring cables with a 4 mm plug:
User manual