Description
Digital sensor, based on systemsCCS811 and BME280 allowing to measure atmospheric conditions, i.e.: temperature from -40 °C to 85 °C, humidity from 0 to 100 % RH, pressure from 300 hPa to 1100 hPa, indirectly measuring the height up to 9.2 km and the detection of organic compounds and carbon dioxide in the air. The sensor communicates over the I2C bus, leads are working with voltage of 3.3 V. The module also has connectors QWIIC.
The product is compatible with Arduino
Connection
Board has 7 holes, pitch of 2.54 mm, which allow soldering strips goldpin(set does not contain connectors, they can be purchased separately). In addition, the module has special connector QWIIC to communicate via I2C.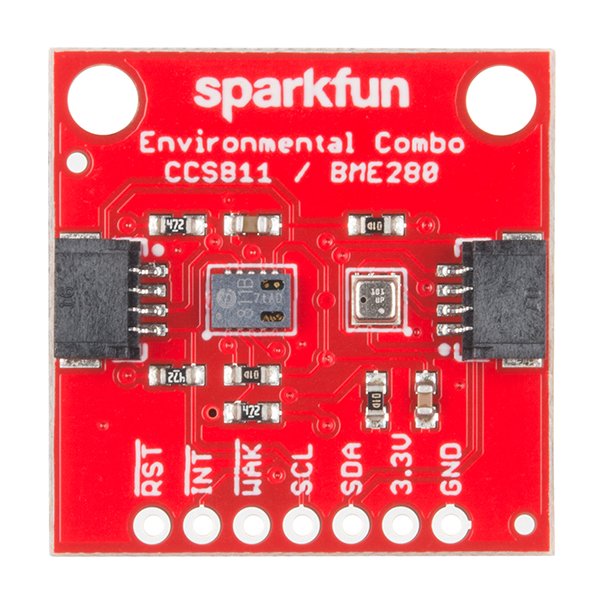 Pin
Description
GND
The weight of the system
3.3 V
Supply voltage 3.3 V.
Traffic
The data line of the I2C bus.
SCL

Clock l

ine of the I2C bus.
Oak
The awakening of CCS811 activated by a low state.
INT

Interruption of CCS811 activated by a low state.

RST

Reset CCS811 activated by a low state.
Specification
Supply voltage: from 1.8 V to 3.3 V
Communication: I2C
Connector QWIIC
Humidity:

Measuring range: 0 %Rh to 100 %Rh
Accuracy: 3% for the range from 20% Rh to 80% Rh

Temperature:

Measuring range: from - 40 °C to 85 °C

Pressure:

Measuring range: from 30 000 PA to 110,000 Pa
Accuracy: 100 Pa

Height:

Range: from 0 m to 9.2 km
Accuracy: 1 m at sea level, 2 m at the altitude of 9.2 km

Volatile organic compounds

Detection range: from 0 ppb to 1187 ppb

eCO2:

Detection range: from 400 ppb, 8 192 ppb

Connectors: holes for soldering goldpin connectors 2.54 mm pitch (not included, sold separately)
Tile sizes: 25 x 25 mm