Attention!
The product has been discontinued. Check others products incategory.
Description
The module working witha Raspberry Pi that provides connectivity in GSM and GPRS. Allows for voice chat, sending SMS messages. It also has built-in GPS module. It supports LTE CAT4 up to 150 Mbps. On the board are: connector for SIM-card, slot u.FL for mounting externalantennaand connector mini-jack for microphone or headphones.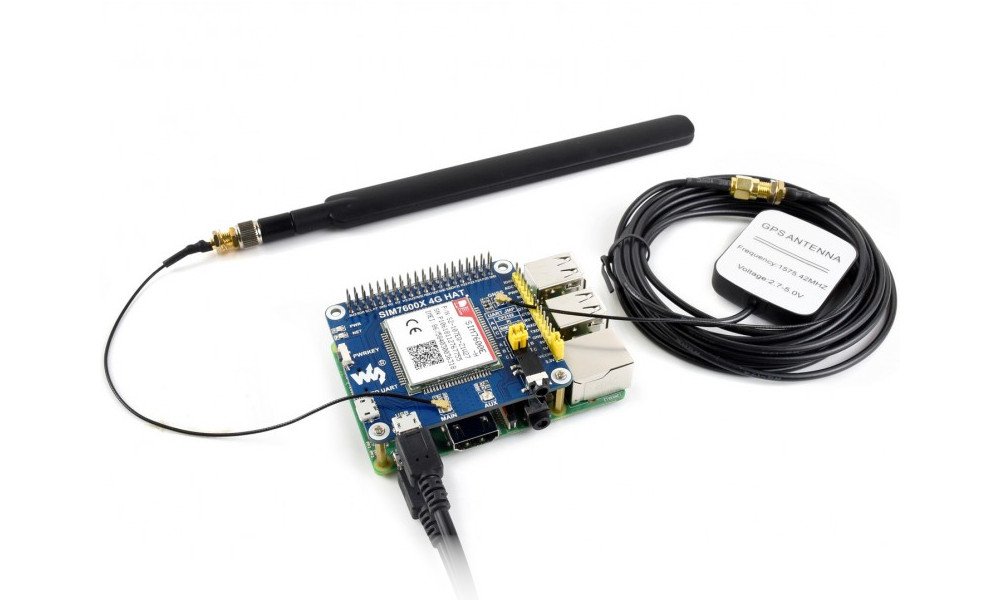 The subject of the sale is a shield, minicomputerRaspberry Pican be purchased separately.
Used SIM7000E module provides a connection through the network GPRS/LTE, and also has a GPS module. On the board is the slot for SIM card and slot the mini Jack 3.5 mm.
Attention!
System SIM7600CE supportsa number of region of China, is not valid on the territory of the European Union, before buying, you should make sure that the operator supports the given range.
What's on the Board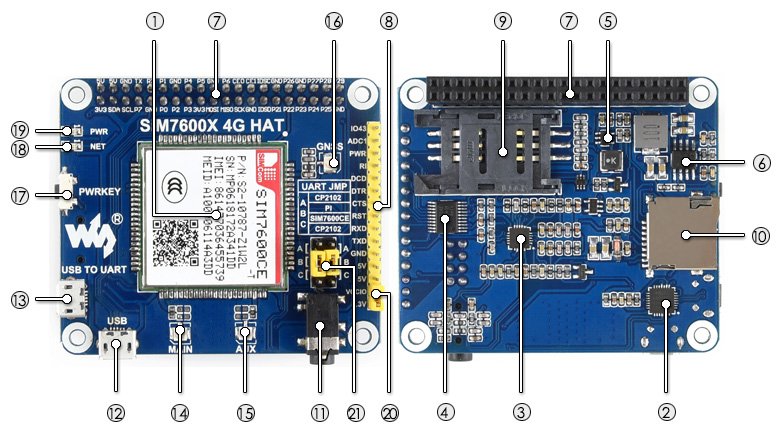 System SIM7600CE-T
Converter USB - UART CP2102
Audio decoder NAU8810
Voltage transistor TXS0108EPWR: reduces 3.3 V/ 5 V to 1.8 V
Power system MP2128DT
Power system MP1482
GPIO connector of the Raspberry Pi
Slot for SIM card: supports SIM card 1.8 V / 3 V
The microSD card slot allows you to store SMS files
Connector 3.5 mm mini jack for microphone / headphone
USB connector: for testing AT commands, downloading data of GPS, etc.
USB - UART interface for serial debugging
Main antenna connector
Antenna connector AUX
Antenna connector GNSS
The power switch
LED indicating network
LED indicating power
Jumper changing input voltage:
VCCIO - 3.3 V: sets the voltage of 3.3 V
VCCIO - 5 V: sets the voltage of 5 V
The choice of UART
access to Raspberry Pi via USB - UART
management of SIM7600 using Raspberry Pi
management of SIM7600 via USB - UART
Specification
Supply voltage: 5 V

Working voltage: 5 V / 3.3 V (default 3.3 V)

M

oduł controlled with AT commands
Built-in GSM/LTE/GPS SIM7600CE-T:

4-band LTE-TDD: B38 / B39 / B40 / B41
3-band LTE-FDD: B1 / B3 / B8
Dual-band UMTS/HSDPA/HSPA+: B1 / B8
Dual-band TD-SCDMA: B34 / B39
CDMA 1X/EVDO BC0
GSM/GPRS/EDGE 900 / 1800 MHz
LTE CAT-4: 50 Mbps (up), 150 Mbps (down)
UMTS: 384 Kbps (up), 384 Kb/s (down)
HSPA+: 5.76 Mbps (up), 42 Mbps (down)
EDGE: 236.8 kbps (up), 236.8 kbps (down)
GPRS 85.6 kbps (up), 85.6 kbps (down)
Output power:

GSM900: 2
GSM1800: 1W
EGSM900: 0.5
DCS1800: 0.4 IN
LTE: 0.25 IN

Generation:

LTE: 4G
WCDMA / TD-SCDMA / CDMA 2000 3G
EDGE: 2.5 G
GSM/GPRS: 2G

Operating temperature: -30 °C to 80 °C
GNSS (GPS, GLONASS)
Type of receiver:
Frequency:

Tracking: -159 dBm (GPS) / -158 dBm (GLONASS)
Cold start: -148 dBm

Time-To-First-Fix

Cold start: <35 s
Hot start: < 1 sec

Accuracy:

The GNSS and GPRS antenna for U. FL connector
Board sizes: 56,21 x 65,15 mm
Set includes
Shield with module SIM7600E-H
Antenna GSM SMA
GPS antenna SMA
2x microUSB cable
2x adapter SMA - u.Fl
Screws and distances