Attention!
The product has been discontinued. Check other products in category.
Description: DFRobot DC 6V micro motor with gearbox
A small metal motor powered by 6 V with a gearbox. Idle current is about 30 mA. Its dimensions are: 21x 10 mm. It operates at up to96 rpm.
Engine specifications
Power supply voltage: 6 V
Idle current: 30 mA
Supply voltage: 3 V to 9 V
Idle speed: 48 to 140 rpm
Speed:

For 3 V: 48 rpm
For 5 V: 80 rpm
For 6 V: 96 rpm
Dimensions: 21 x 10 mm
Weight: 4 g
Engine dimensions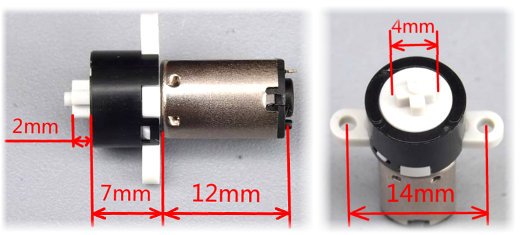 Dimensions of the DFRobot 6 V motor.