Attention!
The sale of the product has been completed. Check others in thiscategory.
Product description: LSM303DLHC - 3-axis accelerometer and I2C magnetometer - Waveshare module
The sensor is a combination of a 3-axis digital accelerometer and a compass. It allows to measure acceleration and magnetic field in configurable ranges. It communicates through the I2C bus and is powered by 3.3 V.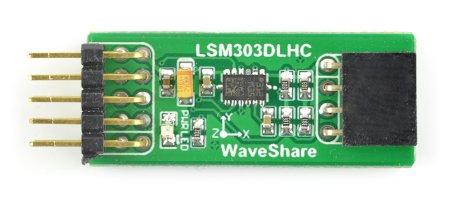 The module supports cascade connection on the I2C bus.
Communication
The I2C interface is used for communication with the central unit. The module has the necessary passive elements for proper operation of the system. The outputs are 2.54 mmgoldpin connectors- raster 2.54 mm, which allow the sensor to be connected bywiresor directly connected to thecontact plate.
| Pin | Description |
| --- | --- |
| VCC | Supply voltage from 2.2 V to 3.6 V. |
| GND | The weight of the system. |
| SCL | I2C bus clock line. |
| SDA | I2C bus data line |
| INT1 | External interruption first. |
| INT1 | External interruption second. |
| DRDY | Data Ready. |
Specification
Operating voltage: 2.2 V to 3.6 V
Communication interface: I2C
Accelerometer:

3 axes: X, Y, Z
Adjustable range: ± 2 g, ± 4 g, ± 8 g and ± 16 g
Resolution: 16 bits

Magnetometer (compass)

3 axes: X, Y, Z
Range: ± 1,3 to ± 8,1 gauss
Resolution: 16 bits

Outlets: goldpin connectors - raster 2.54 mm
Dimensions of the plate: 37 x 15 mm