Attention!
The product has been discontinued. Check other products in category.
Description
Module with UV sensor adding the possibility to detect UV light to any microcontroller. It has a built in converter A/C controlled by the I2C bus that reads and processes the data for 60 MS to 500 MS.
Unlike moduleSi1145, VEML6070 does not give readingsto UV index. It has a light sensor operating in the UV spectrum. It is equipped with a simple I2C interface, thus it can run on microcontrollers with a small performance.
Pins
The sensor has 5 pins working with voltage from 3 V to 5 V. It is communicating with each microcontroller equipped with the I2C bus.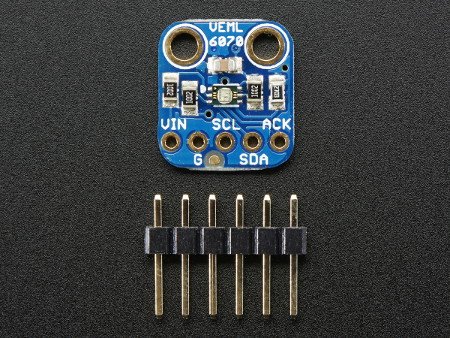 | Pin | Description |
| --- | --- |
| VIN | Supply voltage: from 2.8 V to 5.5 V. |
| G | The ground of the system. |
| SCL | Clock line of  the I2C bus. |
| SDA | The data line of the I2C bus. |
| ACK | The interrupt's output. It warns about too high or low UV signal. |
Specification
Supply voltage: from 2.8 V to 5.5 V
The operating voltage of the pins: from 3.0 V to 5.0 V
Chip: VEML6070
The range of spectrum of UV radiation: from 320 nm to 410 nm
Communication: I2C bus
Pins: the holes for the goldpin connectors - 2.54 mm pitch (strap included in the kit for self soldering)
Board sizes: 14 x 13 x 2 mm
Weight: 0.5 g