Product description: 16 GB eMMC memory module for OdroidH2
MemoryeMMCv5.0is a very powerful memory that allows current minicomputers toa quickand workingeffectively. The eMMC module allows for180 MB/secwriting and250 MB/secreading, so that the small memory module can cope with a really heavy load. The module is equipped with JEDEC/MMCA interface in version 5.0, HS400 with 8-bit DDR mode.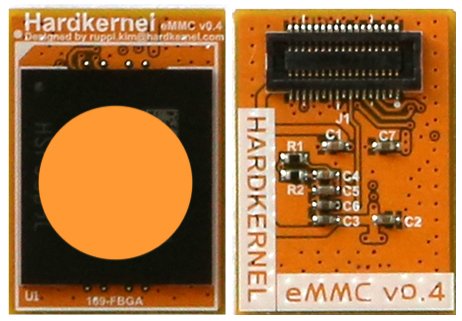 16 GBeMMCmodule.
In our offer there are also othereMMCsfor Odroid minicomputers.
Preparing the eMMC module to work
TheeMMCmodules, with an orange sticker, do not have pre-installed operating systems, after receiving and unpacking the product, it is necessary to place the module in the minicomputer.Odroid H2and install the system yourself using a USB stick.
Module specification
Memory interface: eMMCversion5.1 (HS400, 8-bit DDR mode)
Maximum sequential recording speed: 180 MB/sec.
Maximum sequential reading speed: 250 MB/s
Compatibility: OdroidH2
Capacity: 16 GB