The kit includes:
Two silicone belts
Two drive wheels to fit a 3mm type D shaft
Two wheels working loose
Two bolts, nuts and washers for fixing the wheels
We also offer the 22T versionwitha smaller belt track.
Description
The elements allow to create a caterpillar system. The drive wheels are designed to fit directly onto the micro motor shafts of Polol (e.g.Polol HP 30:1 ).The manufacturer recommends the use ofextendedmounting brackets for the assembly of engines.
The kit also includes washer bolts and nuts, which allow for easy assembly of the system.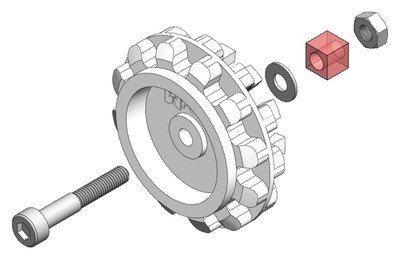 Dimensions:
Outer diameter of the wheel: 35mm.
Diameter with crawler belt fitted: 39mm.
Belt width: 14.6mm.