Attention!
The product has been discontinued. Check other products in category.
Description: RoboClaw 2x30A USB V5 - dual channel 34V / 30A motor driver
The controller allows to control two DC motors supplied from 6 V to 34 V with continuous current consumption up to 30 A (momentary up to 60 A). The RoboClaw system communicates through: USB port of the computer, digital signal UART, TTL, RC radio interface or analog signal.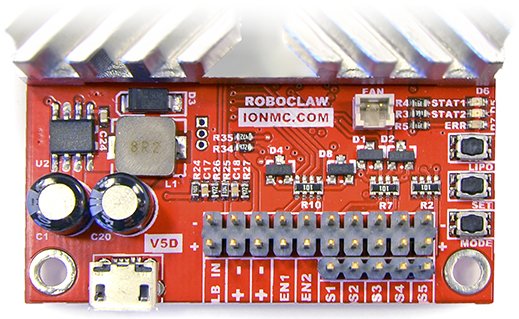 This version has goldpin type connectors to connect control signals.
Main features
Supply voltage from 6 V to 34 V
Continuous current per channel: up to 30 A
Instantaneous current per channel: up to 60 A
Communication:

USB - emulated COM port
UART serial interface - TTL
Signal from RC radio receiver
Analogue voltage from 0 V to 2 V (tolerates 5 V)

Feedback, e.g. to a PID loop:

Connection of quadrature encoders with a resolution of up to 19.6 million pulses per second
Position control via analogue encoders (potentiometers)
Feedback-free operation, so-called open loop control

Configurable via built-in buttons
BEC regulator can be switched on with a jumper
Battery charge monitor, voltage cut-off at too low a voltage
Plate dimensions: 52 x 74 mm
Weight: 60 g
The manufacturer makes it available:
Comparison of RoboClaw controllers
2x7A

2x15A
2x30A

2x45A

2x60A
Number of channels:
2
Tension:
from 6 V to 34 V
Continuous current:
7,5 A
15 A
30 A
45 A
60 A
Temporary current:
15 A
30 A
60 A
60 A
120 A
BEC 5 V:
150 mA
3 A
3 A
3 A
3 A
Width:
42 mm
52 mm
52 mm
52 mm
86 mm
Length:
48 mm
74 mm
74 mm
74 mm
100 mm
The weight:
18 g
60 g
60 g
63 g
295 g