Attention!
The product has been discontinued. Check others products incategory.
Description of Ultrasonic cleaner 0.7l 35W EMK-998
Ultrasonic cleaner for repair and maintenance of optical and electronic components. It cleans using ultrasound in hard to reach areas. The device has a capacity of 700 ml, the output is 35 W. LED informs about device operation.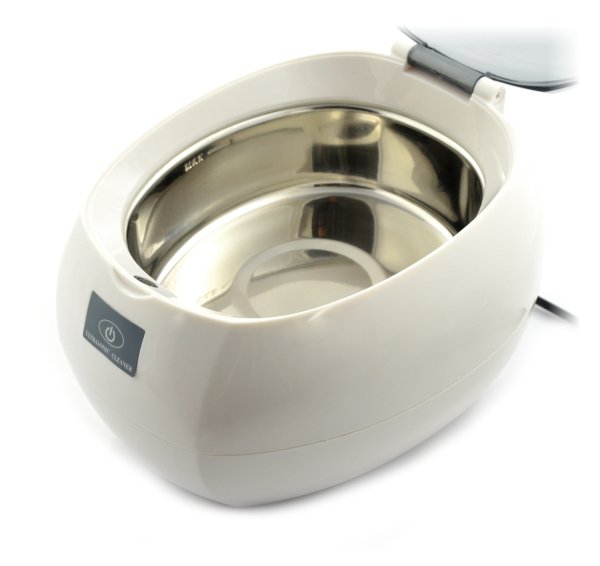 How this device works?
The liquid in the container reaches all places, even ones that are hard to reach. The ultrasound in formes microscopic bubbles in the liquid that break on the surface of the cleaned element, thereby removing the dirt. Increased efficiency of cleaning can be obtained by setting the element close to the generators and by using special cleaning products.
Includes:
Ultrasonic cleaner 700 ml / 35 W digital  EMK-938A
Watch stand
CD stand
Basket for cleaned elements
The user manual (in Polish)
Application
The device finds application in engineering, electronic and jewelry:
Maintenance of bearings, machinery and other items
Remove residue from brass contacts
Cleaning plastic
Cleaning measuring devices and instruments
Washing jewellery from the polishing paste
Removal of residue
Washing electronic parts
Cleaning printed circuit boards (without removing parts)
Cleaning precision mechanical and electronic components
Washing glass after polishing or grinding
Washing optical glass
Specification: Ultrasonic cleaner 0.7l 35W EMK-998
Power supply: from 220 V to 240 V / 50 Hz (network)
Power: 35 W
Operation time: 180 sec
Ultrasound frequency: 42 000 Hz
Tank made of stainless steel
Tank capacity: 700 ml
LED
Unit dimensions: 200 x 165 x 145 mm
Weight: 830 g